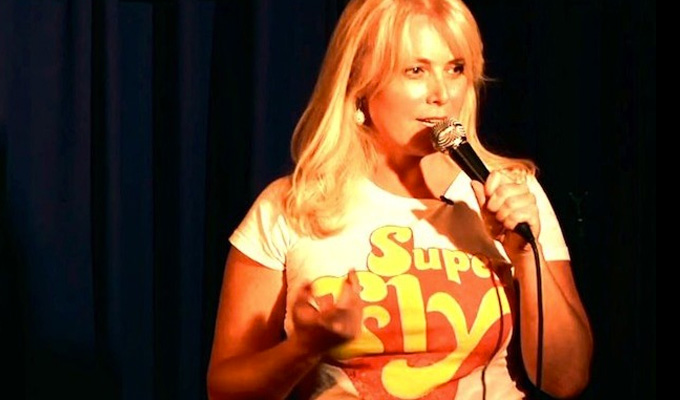 America Stands Up
Note: This review is from 2015
Always the most compelling entry in the programme for punters hoping to see something new, and the only real justification for 'international' in the Glasgow International Comedy Festival, this annual showcase of New York-based comics has previously handed UK debuts to the likes of Hannibal Buress, Kyle Kinane, W. Kamau Bell and Marina Franklin.
Acclimatised at a couple of low-key gigs across the city beforehand, the acts invariably bring punchy sets, this year's contingent bristling with confidence, despite various claims to dysfunction.
Established as the show's regular compere, UK-based San Franciscan Scott Capurro is an unlikely MC, stealing focus with interludes that feel like a headliner's routines, his playful, devilish reflections on race, religion and sexuality creating a charged, lively atmosphere that would overwhelm less assured performers trying to follow him.
That evergreen sense of mischief in his crowd interrogations, desire to probe boundaries and calculated conflation of taboos – questioning how non-gay the most religious parts of the Middle East are – is an irrepressible assault, countering the possibility of offence with the frequent shift and democracy of his targets. He slyly punches up, punches down with impunity, but mostly punches low and lingers on the crime scene, his eyes sparkling at any intakes of breath that his near-the-knuckle sex reminisces provoke.
His whipping up the crowd was a challenge to the rest of the bill and they responded. For anyone who reckons the British still rule the world in self-deprecation, Emma Willmann's dry, measured accounts of growing up in smalltown Maine quickly overturned that stereotype.
Understatedly mocking the hick mentality of attributing ethnicity to anyone who likes a particular foodstuff, the young comic nevertheless foregrounds her own prejudice, keen to find out what the townspeople will make of her relationship with a black girl. Still, she finds nuance – her gay-friendly father unable to say the word; her exploration of straight porn baffling her mother who imagines she knows what lesbians like best.
With insecurity born of having a much prettier sister and childhood dyslexia, Willmann's got some sharp lines on how the condition is sometimes treated as a mental disability and other times not, but glosses relatively lightly over an adolescent hospitalisation for threatening to kill herself. The institution's choice of roommate for her is too priceless an irony not to mention, but the offhand manner in which she moves on is representative of the slick, seamless manner in which she bridges routines.
Sage on the perils of a threesome for her straight, male friends, she nevertheless presents herself as the last person to be dispensing advice - her glib triumph as openly lesbian at a college gig instigates a teenager to claim solidarity, with the comic's new-found status as role model immediately too much of a burden. Comfortable with longish pauses, Willmann expertly paces her material and is a deceptively assured performer.
Kendra Cunningham, pictured, is similarly self-mocking and opens with tales of her roots, growing up in Boston, where her mother's trips down memory lane invariably take darker twists than seems strictly necessary.
Yet where Willmann's dry reflections on her sex life are underscored by cosmic irony, Cunningham's set is driven by palpable, lustful desperation. Astute on the expectations and perceptions of women as they get older, not least those imposed on her by her mother, she's unquestionably attractive so emphasises her slobbishness, her dry run in the mating game encouraging a front of sluttish bravado and trigger-temper paranoia.
Like Groucho Marx, she has an innate distrust of anyone who accepts her. But she's not so suppliant that when a youthful conquest proves inadequate, she won't kick him out of bed. Indeed, the longer her set progresses, the less Cunningham seems like a hopeless case, emerging, more satisfyingly, as someone who has occasional ups as well as downs in her relationships. Easy to warm to, and winning the audience's sympathy with her travails, when she closes on her respective responses to mediocre and good sex, channelling the sass of Mae West, it's a triumphant moment.
Seaton Smith doesn't have the same consistency of material or persona. Yet he more than justified his headline spot with an energetic, unpredictable performance that grabbed the gig by the scruff of the neck and wrung it hard.
We all want to see ourselves as others see us and his incredulity at the UK's Babestation channel is a strong tourist's opening, echoing the recent glut of foreign opinions sought on the prominence of Page 3.
Introducing his home, Washington DC, as a murder capital astonishes no one, he understands. Instead, he effectively evokes an impression of seedy vice with his reproduction of a crackhead swinging a rat round his head like a weapon. From this one, crazed episode, he mines some hilariously cynical yet persuasive thoughts on what life is like at the bottom of the pile, as well as class antipathy. But for the most part, it's just a hugely funny and memorable visual image, performed with infectious joy.
Friction with a gay flatmate, who isn't the clean, tidy, co-ordinated type he'd been schooled to expect, and who instigates a stand-off with the black comic over who's more bigoted, prompts some smart observations on idolatry, and specifically that of Martin Luther King. Less interested in why such an incorrigible womaniser is always depicted as an austere plaster saint, Smith shifts the emphasis to consider what patriotic American Woman wouldn't do her duty by the great man?
Flirting with misogyny, as he does with racial tension, because of its commercial appeal he maintains, he's as relaxed with using 'nigger' as Reginald D Hunter, wielding its considerable impact with skill.
His insights into the female psyche are less assured than those of the male but he's entertainingly candid and direct when it comes to the values men put on a partner's previous notches on the bedpost. In terms of the rhythm of his delivery, Smith is masterful, luring you off-guard by suggesting he won't do a joke because of its supposed controversy, then hitting you hard with it anyway. Wild-eyed and puckishly intense, he's a captivating comic to watch.
Review date: 29 Mar 2015
Reviewed by: Steve Bennett
Recent Reviews
What do you think?