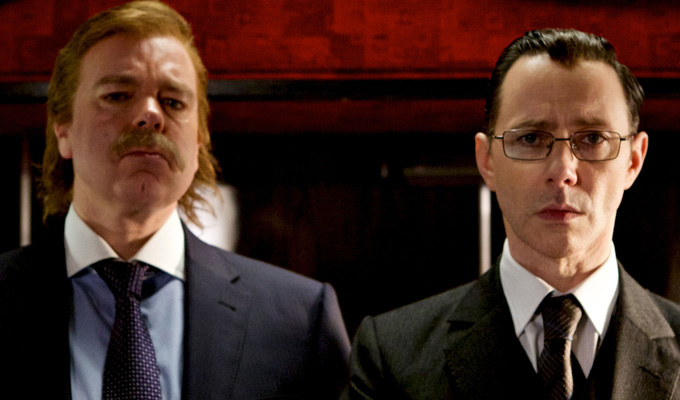 TV review: Inside No 9
Note: This review is from 2015
With its wordless opening, it initially looks as if the second series of Inside No 9 is going to repeat the most audacious episode of the first, and create a near-silent 30 minute comedy.
In to a carriage of a French sleeper train falls a drunk, overweight, clumsy slob, noisily disturbing the best efforts of the punctilious Dr Maxwell to get a good night's sleep in his neatly-pressed pyjamas. For all their sophistication, creators Reece Shearsmith and Steve Pemberton know that a fat German farting is always funny, and string out his involuntary emissions, fore and aft, as long as they dare.
But eventually the conversational silence is broken by the arrival of Kath and Les, a long-term married couple on a great adventure, trying, but failing to keep the noise down – and the episodes trundles along its tracks. Though with any of this duo's creations you know a derailment is never far away.
The comic premise is therefore as simple as it can be. The easily irritated Dr Maxwell (Shearsmith) wants tranquility and rest, and you can be certain he's not going to get it. Further interruptions come from loud, libidinous Aussie backpacker Shona (Jessica Gunning) with a relaxed approach to both cleanliness and decorum, who brings back to Couchette No 9 posh gap-yah traveller Hugo, played by an unstretched Jack Whitehall.
The various scenarios start to play out amusingly with linguistic misunderstanding; banter between Kath and Les (Julie Hesmondhalgh and Mark Benton) and especially the flirtation between aggressive Shona and socially awkward Hugo. Then a Hitchcockesque twist ramps up the jeopardy and the moral tension; the resolution of which makes for compelling viewing as the situation reveals unexpected aspects to some of the travellers' personalities.
Shearsmith and Pemberton (who plays the oafish German) have a reputation for darkness – not without reason, and next week's unnerving episode is especially creepy – but not here. It's just six people in a tight spot all with their own ideas how to get out of it. Their script is witty, occasionally grossly funny, but more importantly tight, keeping the audience guessing right to the very last line.
This is classy TV, a cracking start to an anthology, in which each episode offers fresh delights unlike the last. Bring on No 2 in this bunch of No 9s.
Review date: 26 Mar 2015
Reviewed by: Steve Bennett
Recent Reviews
What do you think?