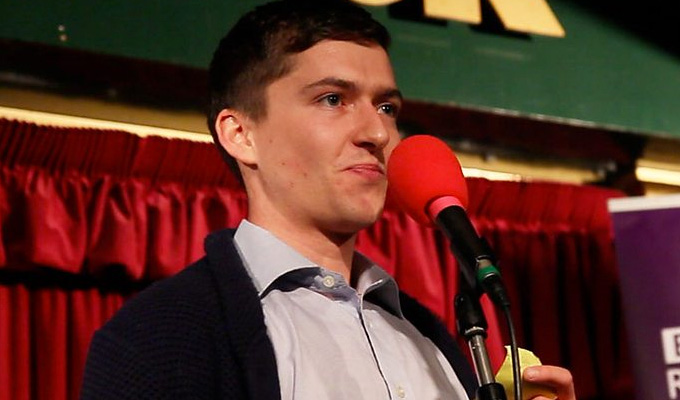 Toilet Duck Award
Note: This review is from 2015
The Toilet Duck Awards were set up by Tedfest, the annual celebration of Father Ted. But if you think such pedigree extends much respect to the newer acts taking part, you'll have another think coming...
All the competitors are interrupted with the brutal cries of '20 seconds!' and 'Time!' from the darkness as their slot ends. As if that wasn't bad enough – and it is – the interruptions come with unflinching dedication to the clock, rather than any concern for comic timing. Punchlines are stomped on and one-liners aborted on the set-up.
You might as well have put Father Jack in charge of the timekeeping...
Up for grabs was the title, a paid slot at the Tedfest in London in July – and the allegedly coveted award of a silver bottle of U-bend detergent – all determined via a series of two-minute knockout rounds, the winner of each determined by audience reaction.
This was all overseen by Joe Rooney, who doesn't immediately have the bonhomie you might expect of a compere, although as he moved into material the audience warm to him. His standout routine, imagining rock stars singing nursery rhymes, is musical impressionism at its finest.
Of the newbies, eventual winner Daniel Duffy was a delight; with a vivid evocation of his parochial life in a small Irish town. Nervous, vulnerable and mild-mannered, he explains that he can't tell jokes, and that his freind Padraig is better at that sort of thing. There's a sadness behind his jokes about worshipping a local girl from afar that makes him a sympathetic figure, as well as an absurd one when he dsecribes, for example, the village's low-tech version of speed trap. The Father Ted force is certainly strong in this one.
Runner-up Chris Stiles, from Doncaster, displayed decent levels of dry wit, although he was probably lucky in the draw to have made the final cheer-off. He has an assured stage presence and gives all the signs of knowing what he is doing, but the broad observational material doesn't throw much new light on his chosen topics.
Ross McGrane sounds very much like Seann Walsh, with his throaty, exasperated delivery as he expresses incredulity at the way The Only Way Is Essex depicts his home county. Observational material on topics such as Candy Crush Saga was delivered without much spin, but the lightness of substance didn't stop the audience liking him.
Matt Aldington, the second Southend comic on the bill, has barely-workmanlike material involves making sarcastic comments in response to posters and list of drugs side-effects. It doesn't imply a lot of thought's gone into writing.
Mustafa Saed has an enjoyable style, precise but laid-back, plus a strong angle as an Irish-Muslim comedian. He starts strong, and has a lot of winningly understated presence, so even though the material petered out as the rounds progressed, he could be a name to watch.
Wirral man Paul Parsons was less certain of himself, making the rookie error of standing way over to one side of the stage, out of the light. He mumbled his opening feedline, some gags are pretty cheesy, and he'll need stronger examples if he's to succeed in bringing unfashionable limericks back to the live circuit. There was a young comic from Wallasey, whose confidence was only a fallacy. He stood in the dark, until 'time!' they did bark, but his puns were awfully bad, you see.
Canadian Adam Jamal was slick and confident, with a brisk set that pressed some crowd-pleasing buttons, such as complaining about Londoners. But it all felt a over-polished and not a little soulless, not letting much of his personality colour the veneer of efficient stand-up.
It's not clear whether Russell Bland is a stage name or a real one, but either way he's going to face a marketing problem, lest he be mistaken for a dubious tribute act. He's modertately entertaining on the subject of being a screw-up in life, but will struggle to cut his own path in a crowded market of stabd-ups.
Kevin O'Connell cuts a slightly Goth-inspired rock-star figure, and makes the most of his wiry frame, demanding attention as he postures on stage. The surreal material is a bit slipshod - just mention 'badgers' and hope it'll be OK - but you can't deny he has style.
Review by Steve Bennett
Review date: 23 Feb 2015
Reviewed by: Steve Bennett