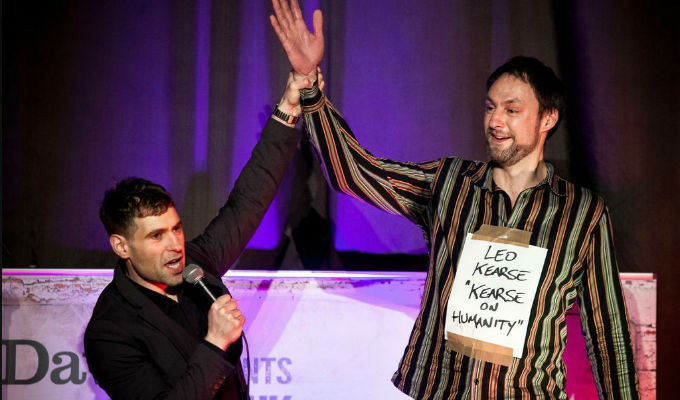 The UK Pun Championships 2015
Note: This review is from 2015
The pun has a peculiar place in comedy - it's the only sort of joke that elicits a groan for disapproval, rather than silence. Indeed that was one of three responses at the second UK Pun Championship last night – the others being a laugh, and a sportsmanlike round of applause, an appreciation of the craft that forged the punchline if not the actual result...
The 'word cup' competition is run as a series of knockout stages, heads-to-head where the contestants must present five one-liners on a given theme - though in truth it works better when the pun-slingers go off-format, and try to top each other's gag in an escalating arms race of wordplay, more akin to a rap battle.
Lee Nelson's a good host for this, especially now the character has shed most of its chavviest tendencies. He's sharp and playful, with the sort of street smarts that – even though faked – create the right level of mischievous competition.
The event seems primarily designed to garner column inches for the Leicester Comedy Festival and its sponsor Dave, who learned from the Joke Of The Fringe competition that they run just how much the media love the free, funny content that a list of comedians' jokes will provide. Nonetheless, the pun championship proved knockabout fun on the night, too, and seems now established in the comedy calendar.
Last year's champion Darren Walsh was unlucky to lose; being drawn against ultimate champion Leo Kearse in the first round - a close-run clash of worthy adversaries that felt like it should have been the final. Both giants of the art - literally, they towered over Nelson – have an almost bottomless barrel of puns, as well as exchanging the sort of combative banter the night needed. Walsh brought in sound effects on his iPad for extra support, while Kearse relied on his wits through all three rounds. After delivering his (usually) fine prepared gags, some with a sharper edge than just wordplay, you could see his mental cogs whirr before delivering a 'topper' punchline to his opponent's jokes, adding to the spontaneity.
For the record, all the comics knew what topics were in the bucket of possibilities - which included the election, chat-up lines, countries of the world and, rather specifically, computer hacking or conspiracy theories – but none knew which category they would get until seconds before they took the stage.
Runner-up Rob Thomas was one of the more intriguing personalities on the night, possessing a wide-eyed comic befuddlement that stressed the surrealism of some of his odder lines, although his writing is inconsistent.
Tony Cowards has a vast number of puns at his disposal, too, partly because of a lax approach to quality control, with some hoary old lines amid his more creative offerings. In true Tim Vine spirit of silliness, he took to the competition in a nun's costume that permitted him to crack a number of gags about 'dirty habits' and the like.
Like most of the punsters, Cowards delivered cheerily, a tacit acknowledgement of the silliness of the form. Richard Pulsford remained more straight-faced... though his his relatively simple gags could have done with a little more performance enhancement. The night's other Richard, Woolford, had a couple of decent gags, but nothing quite worth lodging in your mental notebook to repeat at work the next day. Being distinctive in this genre is hard.
Meanwhile, wild-haired Rob Coleman proved that simplicity was best - but by delivering such convoluted premises that he largely left the audience baffled. It was similar over-complication which did for Martin Crosser, with some clunky set-ups not worth sticking with.
A couple of gags repeated over the night, too - at least two 'get the hump' references to Leicester carpark dweller Richard III for instance – a consequence of the limitations of the pun formula, if you're not careful. But overall, darlings, you were punderful tonight....
Review by Steve Bennett
Review date: 13 Feb 2015
Reviewed by: Steve Bennett