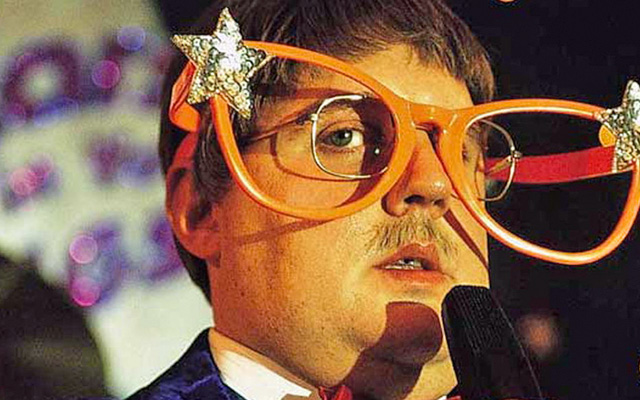 Peter Kay's Phoenix Nights Live
Note: This review is from 2015
He couldn't be there in person, but Ted Robbins's presence was strongly felt at the second performance of Phoenix Nights Live. There can be few who didn't know of the star's collapse on stage the previous night, but as Paddy McGuinness tweeted: 'Tonight's show will be going ahead, if we didn't Ted would kick our arses. Lot's of love for the big man. The Phoenix will rise again!'
However the incident went unmentioned on stage until the very end, when Peter Kay signed off saying 'all of our cast and crew send our prayers to Ted' – and the affection in the ensuing ovation was palpable.
There's a lot of love for Phoenix Nights in general, of course, the reason Kay could fill out the Manchester Arena for 15 nights in the first place, raising a fortune for Comic Relief. Its fond mocking of no-hope clubland acts and the well-drawn ensemble of characters means the Channel 4 show endures.
However an arena gig is far from the intimacy of a TV sitcom, and rather than attempt to recreate a new episode on stage, as the Still Game crew did in Glasgow last year, Kay and his cast chose to recreate the Phoenix Club itself, with a parade of deliberately low-rent acts. Kay likes cheese more than a cartoon mouse, and this was a veritable fondue of a spectacle, hoping to hit the 'so bad it's good' sweet spot.
The lines of parody here were certainly blurred. The second half kicked off with Neil Fitzmaurice's mullet-sporting mobile DJ Ray Von urging the crowd to get up on their feet and dance to a montage featuring the likes of Chirpy Chirpy Cheep Cheep and, inevitably, Amarillo, felt exactly like the real thing… though it would probably be more fun at a drunken wedding reception. The joke was the 'accidental' inclusion of songs by paedophiles like Gary Glitter, but the inappropriateness wasn't done with the deft puns of circuit comic Tom Binns' hospital radio DJ character, Ivan Brackenbury.
Another of Binns' creations, Ian De Montford, also makes more of the inept psychic than Alex Lowe's delightfully-named Clinton Baptiste, although his generic fishing expeditions – 'I'm getting a John… anyone here called John?' – got the laughs.
The cabaret also included genuine juggler Steve Royle, briefly glimpsed in one episode of the sitcom, with a couple of good gags peppering his set, and house band Les Alanos (Toby Foster and Steve Edge) stepping out from their drum kit and electric organ to perform some magic standards – and a quite impressive finale. And one spirited but hopeless singer followed another, notably Archie Kelly's Kenny Dalglish Senior recreating Britney Spears's Hit Me Baby One More Time video with a full troupe of dancers. At times the show almost felt like a cast karaoke party.
Dave Spikey's Jerry St Clair kicked off with a medley, too, including his trademark Black Bin Bags, before telling an ancient pub gag about a lion-tamer. If the audience had heard it before, they didn't care… and of course the character would never think to crack an original joke.
Justin Moorhouse also had to curb his usual stand-up instincts to deliver the 'comedy stylings' of naive tiger-faced Young Kenny, and not really getting the hang of it. Interesting to see 'anti-comedy' being tried out for the most mainstream of audiences, who seemed to enjoy it. Another circuit favourite, Janice Connolly, provided one of the stand-out segments, ad-libbing skilfully as she conducted the raffle for boot-sale tat as the enthusiastic Holy Mary, almost indistinguishable from her Mrs Barbara Nice alter-ego.
After an elaborate opening gag, which rather petered out, Kay compered the first half as Brian Potter, having all the best scripted lines. He was also pretty astute in noting that they should have held the show in his club, just down the M61, rather than going to all the hassle of hiring the arena. It certainly felt like a social club night.
Kay was absent for much of the second half, returning only at the end with Paddy McGuinness as bouncers Max and Paddy, urging us to be on our way. Lest you think the evening would end in such a downplayed style, this segued into a showstopping curtain call, lip-synched to the strains of the Lion King's Circle Of Life that led, slightly oddly, into a video of Potter in Africa, evoking Comic Relief fundraising videos.
Still,the show was established to make money for the charity as well as celebrate the spirit of Phoenix Nights, and both objectives were achieved. As a comedy show in its own right, it probably lent too heavily on its central joke of bad entertainment, leavened with the 'potency of cheap music', and came off hit-and-miss. But you can't argue with the millions for good causes, and the affectionate tongue-in-cheek tribute to the redoubtable spirit of grassroots entertainers, however untalented.
Review date: 2 Feb 2015
Reviewed by: Steve Bennett
Recent Reviews
What do you think?