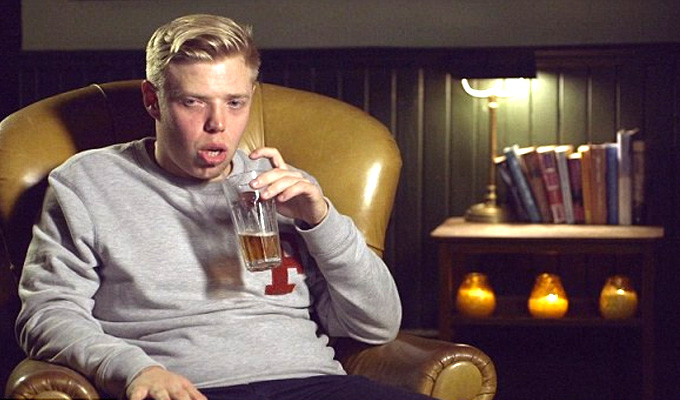 Drunk History
Note: This review is from 2015
If a drunk woman approached you in a bar and starting ranting at you about Queen Victoria's 'hungry fanny' you might start edging discretely away.
Yet this is the very premise of Comedy Central's Drunk History, a UK version of the show that's already a hit on its American sister station. As narrator Jimmy Carr explains, should the title be too confusing, the show is based on 'the two things that make Britain great: making history and getting hammered.'
We open on a sloshed, and very loud, Rob Beckett, with a tale of Henry VIII's first meeting with bride-to-be Anne Of Cleves and finding no chemistry – a reasonably accurate account, it seems, especially given Beckett's befuddled state of mind. There's no doubt he finds the story, and his own drunkenness hilarious, and it's kind of infectious, staying just the right side of that fine line between an entertaining drunk and an obnoxious one.
It helps that the stories are relatively short, belying the show's original roots as a series of web episodes. The internet still seems its natural home, there being no real reason to stick three historical tales together save for the half-hour tradition of broadcasting.
Sketches re-enact the scenes as described by the tipsy comedians, and they boast a cast of marquee names: Dustin Demri-Burns, Mathew Horne, Marek Larwood and Tom Davis feature in the Henry VIII tale alone. And in the revelation of the nymphomaniacal tendencies behind her dour image, Queen Victoria is played by none other than Rebecca Front, star, of course, of her own over-the-top historical comedy, Psychobitches.
This tale is told by a bleary-eyed Kerry Howard, revelling in her depiction of the monarch as a brassy Northern lass on the pull with the sort of exaggerated abandon seven vodka tonics and three sambucas bring… especially if you're a performer and natural show-off in the first place.
Prince Albert was basically 'shagged to death' according to the version peddled by Drunk History (or 'Pissedstory', perhaps) – although however well-researched the show is, you'd be foolish to rely on it for your degree thesis…
Sexual content and post-watershed language aside, there is, of course, a precedent or this brand of comic retelling of the past: the Horrible Histories books and CBBC series. The parallels are especially strong in James Acaster's telling of how the Black Death came to Scotland. After downing three pina coladas, three whiskey sours and five beers he describes what's essentially a human caterpillar of people 'puking out of their butts', shown via a simplistic animation. Charming, but just the sort of obsession with bodily fluids the kids love.
In execution, the simple idea of drunk storytellers proves more entertaining than it ought to be, although there's probably a question mark over how long the joke will remain funny.
Yet the US version has already run to 18 episodes with a third season of 13 more on the way… making it longer than that apex of history programming, Lord Kenneth Clark's Civilisation. Cheers!
Review date: 13 Jan 2015
Reviewed by: Steve Bennett
Recent Reviews
What do you think?