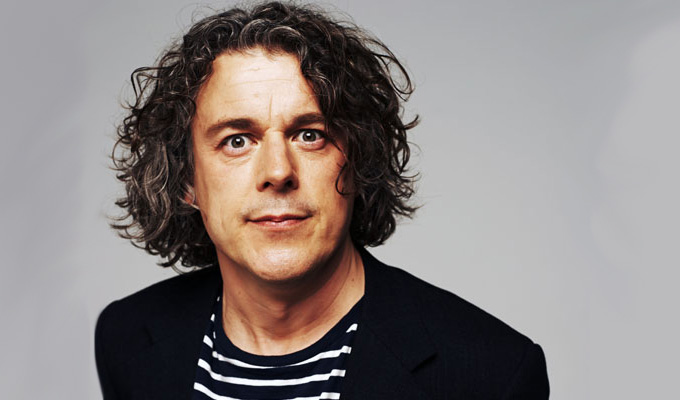 Dave's Leicester Comedy Festival Preview Show 2015
Note: This review is from 2015
The preview show for the Leicester Comedy Festival – Dave's Leicester Comedy Festival as host Alan Davies repeatedly corrected himself – is an interesting litmus test, introducing mainly non-famous comedians to a broadly conservative crowd, albeit one acclimatised to different comedy rhythms, thanks to this annual showcase.
A straw poll, conducted by Davies as he opened the show with the usual compering to-and-fro, revealed the audience's biggest demographic was born in the 1950s and 1960s, with a lot of repeat gala customers. It's about the only information he got from them, though. 'You're very standoffish,' he said after yet another question fell on more than a thousand pairs of deaf ears.
But when he gave up on wanting answers he got something far more valuable: laughs. Starting with a tale of men flaunting their nudity in the changing room – a pretty familiar subject among stand-ups – he came into his own with tales of his children, and how he often has the very opposite of the protective parental urges that nature should have provided.
The joy is both in the detail of the storytelling and the naughtiness of the confessional – attributes that also define a later routine grumbling about the effects of adventurous sex on his ageing body, told with an effective and understated physicality. His surefooted routine about what pubs used to be like, complete with the drunken drive home, is another special delight. Davies makes it look so easy, as he plays the uncomplicated everyman the audience know from TV.
Opening act Andrew Ryan has a similar stance, albeit without the TV fame, with the bulk of his set dedicated to the universally frustrating experience of negotiating the security barricades involved in phone banking. The likeable Irishman has some sharp jokes as his plays the call-centres at their own game, though for my money he could be a lot more efficient between the punchlines, with too much conversational filler that didn't earn its place. Still, the audience felt comfortable in his company and identified with both his irritation and his mischievous response to it, and he received a warm reaction.
Constrained by the demands of song lyrics, Kate Lucas was necessarily a tauter act. She has a fairly bleak view of life, presenting three embittered songs about children and relationships, the unwaveringly jaundiced sentiment juxtaposed with jaunty melody. She sticks firmly to the expectations of a guitar act, which makes it hard for her to impress through surprise, although there are some tricksy rhymes, decent gags and impactful 'reveals' within the adept songwriting.
Talking of impact, Jarred Christmas's energetic, hard-hitting delivery demands you sit up and listen. That he directed such passion at such offbeat minutiae as the naming of days of the month and the strategies of playing Monopoly, both of which he goes into with hilariously needless detail with wonderfully preposterous results, keeps the set as fresh as it is quirky. He provided a strong end to the first half, which should ensure the 'sold out' signs go up outside his solo show when the festival proper starts next month.
A last-minute replacement for the otherwise indisposed Nish Kumar, Bobby Mair proved one of the highlights of the night. He's dark and weird, even his haunched, lopsided stance suggesting a man battered by the world yet spitting defiantly yet defensively back. Singling out once audience member laughing louder at his material than anyone else, Mair asked him what awfulness could possibly have happened in his life to put them on the same wavelength. But although Mair might have seemed a strong taste for a mainstream audience, his authenticity – plus a well-stocked arsenal of excellent off-kilter jokes – won the day. Even if you haven't had a screwed-up life.
Tim Renkow fumbled his opening gag, which could have been fatal with an audience already put slightly on edge by his cerebral palsy. But he ploughed on, undeterred, to address the discomfort his condition creates – and the stupid things it prompts presumably well-intentioned strangers to say to him, causing far more social embarrassment than a Spasm ever could. No that he confines his act to his disability, with a set that also includes a provocative piece about travelling back in time to kill Hitler based around an accurate, but never-before-expressed, premise. Because the audience have to listen so intently to his voice, the words carry more weight – but also it can never be the entirely relaxed interaction that most conversational stand-ups take for granted.
Last year's Edinburgh best newcomer, Alex Edelman, offers a highly polished set, told with the New York Jewish cadence that stand-up was built upon. He speaks of dead-end jobs, of being denied bacon, of trying to avoid contact with rambunctious American girls on a train. He's nominally the hapless victim of the various circumstances, but finds ways to get in digs at other people along he way, too. He can write a strong gag, but mostly the anecdotes are credible descriptions of funny situations the audience enjoy sharing.
Despite being the best known of the line-up outside of Davies, Sara Pascoe was a slightly odd choice for closing act. Not because her distinctive writing isn't funny, but because her dry, unemotive style doesn't bring a climactic energy to the evening. Nonetheless, the calm voice allows for clear communication of clever ideas – her way of achieving No More Page Three through playful logic being a special highlight – and a candidness about her own life. Feminism's a driving force, but she deploys it as a common-sense lens though which she sees the world and its stupidity, rather than being the pejorative cliche of the hectoring militant. And for that, her inventive comic ideas will persist.
Review date: 10 Jan 2015
Reviewed by: Steve Bennett
Recent Reviews
What do you think?