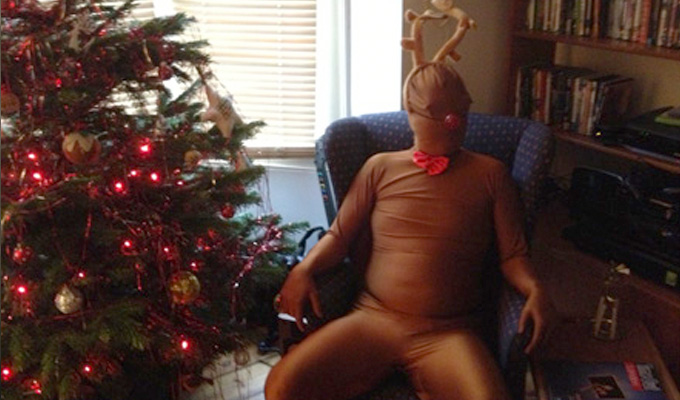 A Show For Christmas by Daniel Kitson - review
Note: This review is from 2014
It has Christmas trees, Santa Claus and snow… but Daniel Kitson's seasonal storytelling show is far from traditional.
In fact, the very notion of tradition is one of the undertones of this yarn, questioning whether returning to the same place to do the same things year after year is a stultifying custom, dimming the enthusiasm with each passing cycle, or simply cosy, heart-warming nostalgia. Such musings, though, are only a sidebar to the main event, a delightful tale that's enchanting, quirky and alternately funny and emotive – no less than we have come to expect from the masterful comedian.
This story concerns Polly, a 39-year-old woman making her ritualistic annual pilgrimage from London to her mother's house for Christmas. We meet her in the prologue, which Kitson delivers off-mic, at the counter of a car-hire firm late on December 24 – as grim a setting as you could imagine. There, by way of an amusingly odd encounter, she winds up renting a mid-sized motorhome that's pivotal to the narrative.
In what's becoming something of a Kitson trademark, he rearranges the stage as he sets off; moving Christmas trees to reveal a desk and microphone from which he tells the story proper, starting from when Polly accidentally runs that unwieldily hire vehicle into a pensioner crossing the street. He's unhurt, but Polly, ridden by guilt, gives him a lift up north.
To reveal too much more risks spoiling the plot for those yet to see the show, running for just five nights at the Battersea Arts Centre, but the elderly Nicholas turns out to be something of a grinch, griping about the customs of the festive season and getting involved in an altercation at a service station, another bleak midwinter setting. Over the tortuous journey through treacherous weather and grinding traffic, the pair argue and ultimately bond over a series of barbed, often hilarious exchanges.
Such a tight setting heightens the importance of dialogue and Kitson sure knows how to craft it. His use of swearing for comic impact is second-to-none and he also coins a couple of memorably witty phrases you might find entering your own vocabulary. Yet despite the restraints of the situation, the story unfolds compellingly.
It is told with impeccable evocative skill that holds the audience enraptured for nigh-on 100 minutes. All that interrupts Kitson's voice are a number of prerecorded answerphone messages from earlier in the fictional year (featuring Isy Suttie), the significance of which gradually emerges, giving the story both additional weight and its unconventional tone. Nonetheless, the conclusion remains full of tenderness and a distinctive brand of festive cheer.
When he launched the show, Kitson suggested he wanted this to be the antidote to the rowdy, drunken Christmas comedy club nights where he cut his teeth en route to becoming a peerless compere. Job done… it's only a shame this run is so short that so few will get to see this engrossing and magical festive tale.
Review date: 4 Dec 2014
Reviewed by: Steve Bennett
Reviewed at: Battersea Arts Centre
Recent Reviews
What do you think?