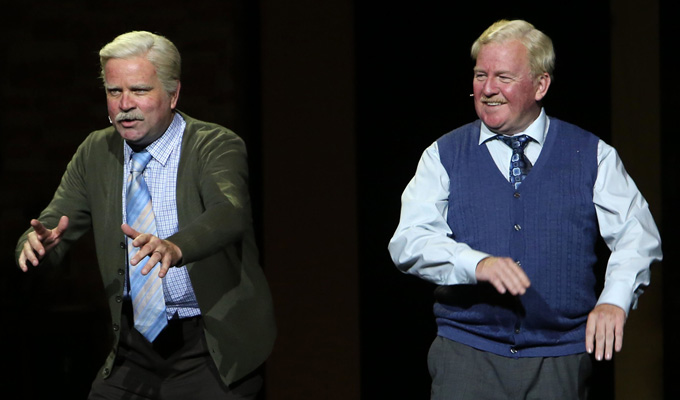 Still Game Live
Note: This review is from 2014
As with the year's other big reunion show, the usual rules of critical appraisal don't quite apply to the Still Game extravaganza which took over Glasgow's Hydro this summer. This is a jubilant celebration, full of in-jokes and joshing, with the audience in on every gag before even a word had been uttered.
During one of many knowing exchanges, Jack and Victor even mull the Python comeback that overshadowed them, ironically opining: 'Once you've chucked it, you should stay chucked' and that a blatant cash-in reunion is 'always a disappointment'.
That wasn't true in London, nor is it true in Craiglang.
Still Game has its roots on stage, and live, Greg Hemphill, Ford Kiernan and their entourage do more than attempt a theatrical rendition of a sitcom episode. Which, given the flimsy plot revolving around a Canadian wedding attended via Skype, is a smart move, even if it may not be what viewers expecting simply to see their favourite show int he flesh would want.
Instead the fourth wall gets more of a pounding than the Berlin Wall did in 1989, with plenty of breakout chats to the audience, pantomime-style. The script owes more than a nod to stand-up, too, in the witty exchanges between our two incorrigible pensioners as they sit around, well, chewing the fat, and in the pub gags that are told, appropriately enough, in the bar of The Clansman.
Comedy purists might not approve of some of the old, abuse-laden jokes exchanged with Gavin Mitchell's barman, Bobby (even down to the 'every time I shag your mum she makes me a sandwich' putdown), but they are delivered with an infectious zeal. Devices such as a 'top 5 slamdowns' allow the team to pack in even more gags than a script with any aspirations of realism could ever hope to match. Meanwhile,Winston (Paul Riley) is the subject of more one-legged jokes that you thought possible, including a barrage of film titles reimagined for a uni-ped.
The action is split between the pub, Jack and Victor's front room, and the shop run by Navid (Sanjeev Kohli) and his perpetually unseen wife. Theatrical set pieces exaggerate he usual confines of a sitcom for the necessities of an arena venue – culminating in a lively drug-induced Bollywood-style musical number with the catchy refrain 'oot yer bastard'.
It's a fittingly high-profile finale for a show that, although not without its flaws, revels in an triumphant party vibe. That sense of fun survives even on DVD, and even if you're not an existing fan.
Review date: 25 Nov 2014
Reviewed by: Steve Bennett
Recent Reviews
What do you think?