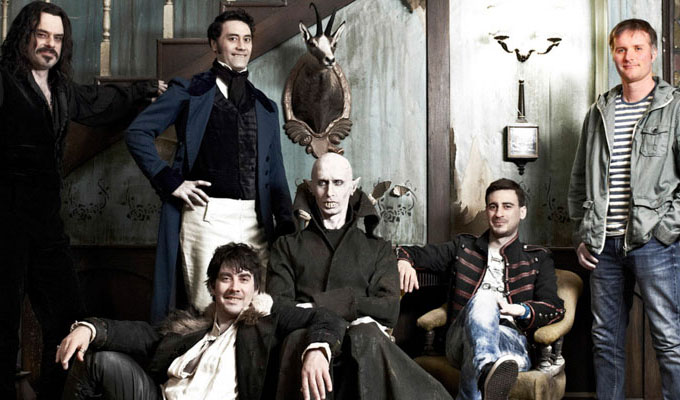 What We Do In The Shadows
Note: This review is from 2014
For anyone assuming the mockumentary format was dying, this loveable vampire comedy from New Zealand hisses fresh life into the genre.
Written by, starring and directed by Flight Of The Conchords' Jemaine Clement with his long-time collaborator Taiki Waititi, What We Do In The Shadows has great fun making sly and silly allusions to the undead film canon and vampiric lore. Yet it ultimately triumphs as a character-driven situational comedy.
Lodged together for eternity, four vampires of disparate ages share a house in modern Wellington. Viago (Watiti), an 18th Century dandy from Europe is the fussing mother hen of the group, drawn to New Zealand by love, his preference for neatness undermined by the messy business of eating his prey.
Clement plays Vladislav the Poker, a medieval fiend partial to orgies and torture, once a being of great power but now a shadow of his former self, laid low by his nemesis The Beast. Failing to pull his weight with the chores is bad-tempered Deacon (Jonathan Brugh), a former Nazi and self-styled bad boy of the group. And then there's Petyr (Ben Fransham), a uncommunicative, 8,000-year-old Nosferatu-type with frightening shades of Father Ted's Father Jack.
The quartet are classic fishes out of water, unable to leave the house in the daytime and experiencing a generally difficult relationship with humans. Viago tries to give his dates as charming an evening as possible before he eats them, while Deacon employs a familiar, Jackie (Jackie van Beek), to bring them victims and be their put-upon housekeeper in exchange for a consistently delayed promise that he will turn her into a vampire.
Their musty, centuries-old domestic arrangements is interrupted with the sudden arrival of Nick (Cori Gonzalez-Macuer), a fledgling bloodsucker whom they must school in their macabre ways, but who in turn teaches them about such modern phenomenon as record scratching and the internet. Although he irritates Deacon, he's accompanied by his human friend Stu (Stuart Rutherford), whom the group resist biting because they like him so much.
Tensions between Nick and Deacon fatally spill over with the former's indiscretion about his undead status, there's intermittent gang posturing with a group of local werewolves lead by Rhys Darby, and the plot builds towards the climax of The Unholy Masquerade, an annual gathering with zombies, witches, warlocks where Vladislav is primed to be guest of honour.
Improvised by the cast, plenty of the film's best lines are drolly understated and several of the funniest visual gags are almost throwaway. The special effects are impressively slick for a modestly-budgeted feature but they're self-referentially creaky when required, particularly the stunt wire acrobatics and slapstick.
The relatively sleepy Wellington setting and the lo-fi, hand-held-camera of the documentary format brilliantly emphasise the mundanity of the vampires' existence, its clash with their supernatural behaviour amusingly played up in a scene in which police enter the house, forcing them to play at happy families. The measures the werewolves use to cope with their anti-social transformations are also hilariously pragmatic.
The presence of the documentary crew affords some good jokes in of themselves, not least about the incongruity of secretive creatures embracing reality television. But the snappy editing and intrusive shots also bring out the vampires' awkwardness and pain.
The loverlorn Viago is the heart of the film in this respect, with the puppyish Waititi either captured in a tight rictus grin or gazing longingly at his lost beloved, now elderly and oblivious to his presence floating outside her retirement home. Clement's timing meanwhile, is typically first-rate, as he flickers between dangerous sexual charisma and panicky uncertainty in a single confused glance to camera.
The vampires are completely aware of their own mythology and there are nods to the likes of Francis Ford Coppola's Dracula, The Lost Boys, Let The Right One In, Blade and the Twilight series, not to mention a lot of straightforwardly camp, schlocky fun with gushing blood and costumes.
Yet What We Do In The Shadows never settles for being a mere spoof and evolves into something of a bromance between the vampires and the convivial Stu. Or a 'homoerotic dick-biting club' if you take Jackie's view.
You end up feeling great affection for these dysfunctional monsters and can't resist welcoming them in.
• What We Do In The Shadows is on general release from today
Review date: 21 Nov 2014
Reviewed by: Steve Bennett
Recent Reviews
What do you think?