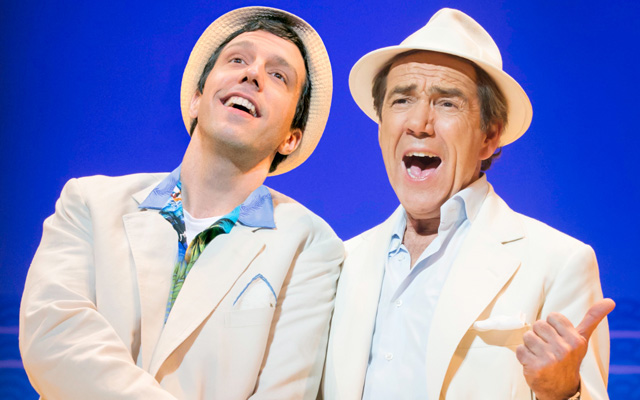 Dirty Rotten Scoundrels
Note: This review is from 2014
After Rufus Hound's sudden departure last month, reportedly over frosty relations with co-star Robert Lindsay, the Dirty Rotten Scoundrels musical last night officially launched the new version of its cast.
Taking the role of Freddy Benson, payed by Steve Martin in the 1998 film version, is Alex Gaumond, best known to West End audience as Matilda's domineering headteacher, Mrs Trunchbull. A turn-up, then, for him to be on the receiving end of some sadism this time around.
The plot – and it takes a rough time getting there – involves two conmen working the monied classes flocking to the French Riviera resort of Beaumont-Sur-Mer. Lawrence Jameson (Lindsay) is a veteran grifter, suavely flattering women out of their assets until up pops, a crass classless American rival, full of spirit but not much sophistication, to offer a little competition.
Initially the plot heads into something of cul-de-sac when it looks as if Lawrence will get all Henry Higgins on Freddy, teaching him the etiquette of the con. It's part of rather slapdash writing in the first act, in which the art of the swindle is reduced to preposterously easy smooth talking.
Things take a turn for the better with perhaps the most famous set piece from the original movie, in which Freddy affects the persona of Ruprecht, the mentally deficient brother of the Prince Lawrence is pretending to be. Gaumond makes a decent fist of this, but the performance is not as gloriously over-the-top as Martin's, who, after all, had a whole career of derangement to prepare for it.
A better comic turn comes as he poses as the ex-soldier who's lost the use of his legs, as part of a wager with Lawrence to scam the American Christine Colgate out of $50,000. Lindsay's character is out to prove he's faking it in the most physical way he can, causing poor Freddy to choke back the agony in a scene that culminates in a great comic special effect.
Lindsay's performance – his first musical theatre role in 16 years – is a slightly odd one. He's got all the song-and-dance man moves and a fine voice, but shows off his talent in a strangely charmless way, even with the breaking-the-fourth-wall moments, which seem wooden. But as the action ramps up after the interval, he becomes more lively, credible, even almost likeable.
As Christine, Katherine Kingsley is a knockout, swinging between ballsy, vulnerable and seductive in her biggest theatre role to date, and a career-making one at that. And here's a sentence I never thought I'd write on Chortle: Gary Wilmot is very funny. As the police chief in Lawrence's pocket, a role he's played since September, he provides a nifty, if almost entirely superfluous, comic subplot with an engaging Bonnie Langford and brings plenty of physical comedy skills to the stage.
The production is impressively staged, with stylish and impressive art deco sets, neatly designed by Peter McKintosh, flying in and out. The vintage look matches the feeling of the whole show, which is something of a throwback in terms of style, humour and the sensibilities of scenes such as the dancing French maids in their frilly miniskirts.
There's good and bad to that old-school approach but it certainly ensures the show is entertaining, if light. Lively choreography boosts the impact along with a David Yazbek soundtrack that, although containing no obvious catchy hits, provides plenty of nifty lyrics and wry rhymes. But then for a show about scam artists you would expect nothing less than slickness and superficial charm…
Review by Steve Bennett
Review date: 20 Nov 2014
Reviewed by: Steve Bennett
Recent Reviews
What do you think?