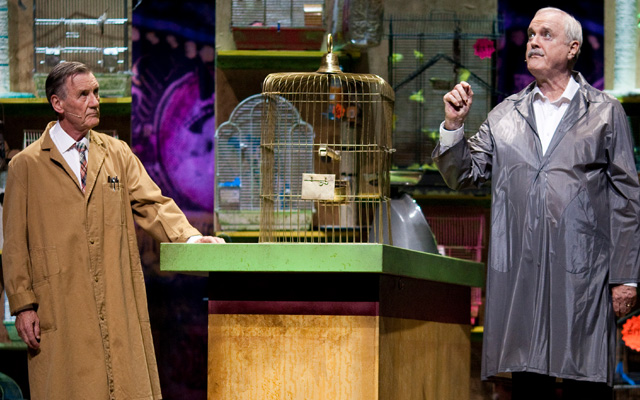 Monty Python (Mostly) Live: One Down, Five To Go
Note: This review is from 2014
There can't be many Monty Python fans who wanted to see the O2 farewell shows, but still haven't. As well as the 160,000 or so who saw it live, it was simulcast on almost 2,000 cinema screens worldwide and aired live on Gold – attracting record audiences for the channel – and has frequently been repeated since.
So this DVD will primarily serve as a memento for those who were there – and much more reasonably priced than the inflated merch on sale in the arena – or, like so much of the DVD market, as a quick-and-easy gift for a fan you know.
In any case, it's hard to judge One Down, Five To Go by the standards of any other comedy show. For this is a celebration in which the familiar is not just preferred, but positively vaunted. A smattering of lesser-known sketches are dusted down, but it's the lumberjacks, dead parrots and cork-hatted Bruces that the audience want.
The main difference between this production and most Python work is the emphasis on the songs; primarily reflecting the mores of Eric Idle, who masterminded this show with his Spamalot composer John Du Prez, but also out of the dual necessity of covering costume changes and providing a spectacle to fit the size of the venue. Even so, some relatively obscure compositions are promoted, while poor Eric The Half A Bee is mere refrain in some incidental music. But in well over two hours, most favourite Python moments are included.
Capturing the excitement of the crowd on seeing their heroes, that crucial element of the night, is impossible on screen – though the pure joy of Always Look On The Bright Side Of Life comes close. What is caught, of course, are the playful ad-libs between the comics which keep the familiar scenes fresh for both audience and performers. For example Michael Palin and Eric's High Court judges, after disrobing to reveal their basques and suspenders, start speaking of the lucrative work in John Cleese's latest divorce. In the crunchy frog sketch Cleese himself grabs Terry Jones's cue cards, making a joke of the failing memory. But there's not too much of this mucking about – most part it's straightforward run-through of the scenes we already know.
Terry Gilliam's animations and a few scenes from the original BBC series are interspersed with the live action – not least for the chance to ensure Graham Chapman is represented among the rest of the septuagenarian Pythons still clinging doggedly onto the mortal coil.
Yes, this is a shameless last shake of the money tree for all involved, and the self-congratulatory farewell won't convert any Python atheists to the cause. But who would deny such an influential troupe their swan song…
Review date: 18 Nov 2014
Reviewed by: Steve Bennett
Recent Reviews
What do you think?