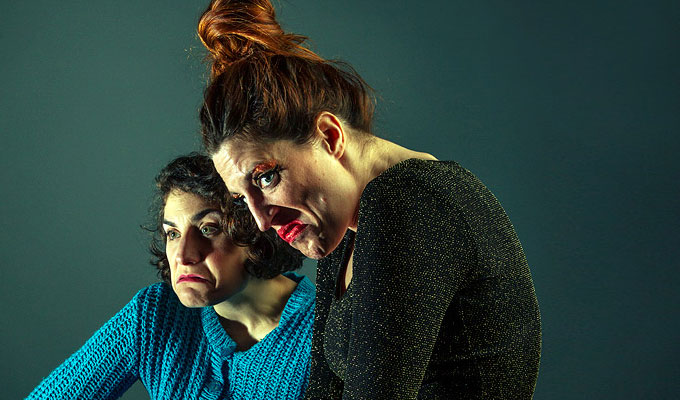 Twisted Loaf in Half Baked
Note: This review is from 2014
Strange, dark and unpredictable, Twisted Loaf almost defy description.
Some of the sketches from this bold double-act have one foot in the conventional, albeit through a post-Vic-and-Bob filter of surrealism. But others incorporate creepy clowning, space-invading audience participation or edge-of-breakdown intensity into a quirky attitude that's all their own
The balance isn't always right. Phosphorus-bright bursts of energy can be dimmed by wilful weirdness and agonisingly drawn-out moments of awkward embarrassment. And at around 75 minutes, Half Baked is about 20 minutes too long. But Libby Northedge and Nina Smith are creating unique and interesting comedy that frequently flares into unexpected hilarity.
This show starts hesitantly, an over-stretched silent piece, with only titters of embarrassment as Smith, silently and nervously works the stage. Since we're not yet sure who her character is, it seems self-indulgent. Things become much clearer when Northedge makes her vampish appearance with the exaggerated eroticism of a tenth-rate drag queen – a performance which turns out to be only the tip of grotesque sexuality of which she is capable. It is soon established that she is the domineering alpha-idiot and Smith her foolish sidekick, with a strange attraction simmering between them.
Their best sketches often involved highly stylised versions of recognisable archetypes – but their horsey Sloanes or equally vacuous Essex airheads that are far from cliche. A transition between scenes reveals, almost under their breath, a beautifully twisted One Show piss-take. Yet their most disturbingly indelible scenes involve a carer and her vegetative charge that go to much darker extremes than Little Britain's Lou and Andy would dare venture.
Performances are as daringly outlandish of the material, marking a vehement devotion to the outlandish in both appearance and actions as they grapple, seduce or irritate each other in frequently messy ways. Yet for all the apparent wildness, the duo are always in control, a disconcerting mix of madness and precision.
Far from the mainstream, Twisted Loaf are still perhaps more funny peculiar than funny ha-ha – but their supremely confident debut is certainly memorable, and with plenty of wit amid the insanity.
Review date: 6 Nov 2014
Reviewed by: Steve Bennett
Reviewed at: Soho Theatre
Recent Reviews
What do you think?