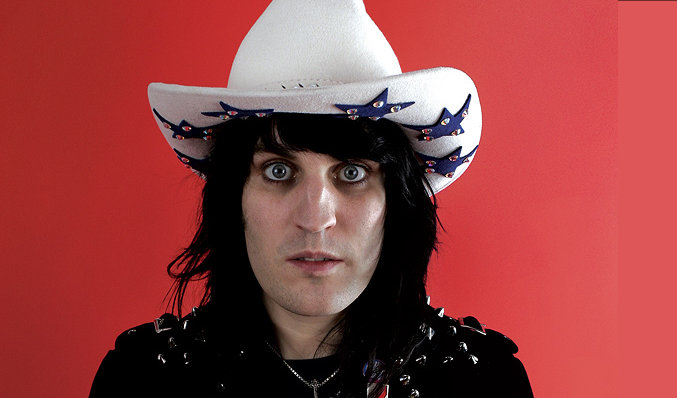 An Evening With Noel Fielding
Note: This review is from 2014
Noel Fielding's tour has to be the strangest comedy show playing the big theatres: an indication that off-the-wall humour can transcend fringe appeal if done with devotion, invention and charm –and, of course, the levels of TV exposure the flat-nosed flâneur receives.
It's been five years since he last hit the road with the Boosh's big-production extravaganza. But things are relatively pared back this time around, especially in the first half when Fielding comes as close as he gets to stand-up.
There's a slight nod to how ridiculous it is that he is still peddling this nonsense at 41, with his party days behind him, but that's the full extent of the observational stuff. Otherwise the Buzzcocks regular regales us with his dreams of being a teabag, his heartache at being cuckolded by a triangle (the geometric shape, not the musical instrument) and his life as a chicken man. 'This is what you came for!' he enthuses as he struts and squawks around the stage, a primally hilarious routine resting on his commitment and his angular physicality.
It would be easy to list all the surreal, whimsical ideas in the show to demonstrate just how bonkers it is – although that's only a part of the appeal. The show is dynamic and playful and Fielding often steps back to acknowledge the absurdity, reflecting any critical monologue the audience may be having. There's even a storyline in which Hawkeye – the computerised tennis line judge made flesh – has to rule whether something's a joke or just a concept. As Fielding defends himself, he offers the best advice for approaching his comedy: 'Just feel it, like jazz.'
The stand-up eventually subsides into a preposterous beatnik pantomime, as Fielding is joined by his brother Michael, who played Naboo in the Mighty Boosh, and Tom Meeten, who played Lance Dior but has long been known on the circuit for his vigorously performed oddballs, which perfectly fit the surreal aesthetic here.
Some old creations reappear alongside new characters: the simple-minded Moon, with his nefarious Dark Side; the quixotic Fantasy Man; and the hard-bitten, tightly-permed NYPD cop Raymond Boombox who wades through the audience in a segment that goes on just a bit too long (and delayed further by fans taking selfies). Their adventures cross reality – or at least Fielding's twisted version of reality – and fantasy, cleverly incorporating psychedelic animations. They must be the only way to realise the wilder excesses of his imagination.
While it would be easy to point to individual moments here that don't quite work, or nudge into the self-indulgent, the childishly playful spirit conquers all. And every so often the disparate, odd elements combine to the perfect storm of brilliant hilarity, which depends on all that has gone before.
Even in middle-age, Fielding remains ambitious and inventive, creating a world that works on its own logic yet resonates with ours – and includes some gloriously funny moments only he could have designed.
Review date: 30 Oct 2014
Reviewed by: Steve Bennett
Reviewed at: Sheffield City Hall
Recent Reviews
What do you think?