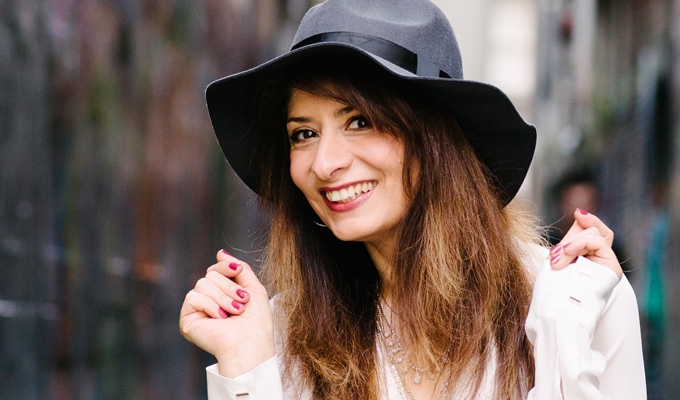 Shappi Khorsandi: Because I'm Shappi
Note: This review is from 2014
When Shappi Khorsandi says she is excited to be in Brighton it feels more than the usual comedian's platitude to whatever city they're playing. After all, this Radio 4 regular is the epitome of the liberal middle-class – so this is definitely her kind of town.
She comes across as being happiest when on stage in any case, treating the audience as her confidant, with whom to share tales of her sometimes messy life. She's recently had her second child, so there's the feeling that as a single 40-year-old mum with a solitary career, this is her best chance of the day for adult conversation, albeit one-way.
From enduring childhood friendships, watching porn and attitudes to female comedians, Shappi's material is easy to relate to and told with a casual, conversational air.
The material is loose and free-flowing – perhaps sometimes a little too loose as the anecdotes sometimes have a little too much padding. But while hearty belly-laughs are limited, the overwhelming feeling is that of an effortless, witty and candid chat with a friend. But a friend with some engaging tales.
Although she talks about her children, from 'kids do the funniest things' type stories to deeper concerns about her parenting, it's her father – the exiled Iranian satirist Hadi Khorsandi – who's the biggest character in the show, as he teaches her how to deal with hoodies on a London estate or gives her a sense of perspective about the odd Twitter troll. Father and daughter sound like a double act waiting to happen.
While Khorsandi Sr upset a whole regime, Shappi frets about accidentally causing offence to a minority group – especially given her experiences as a refuge to Britain. However by repeating the comment that got her in trouble, she gets the laughs from it again, while half-heartedly distancing herself from it.
But you'd have to be pretty thin-skinned to take the hump from a show that's so warm, friendly and open, from a comic prepared to so publicly mull her fears and shortcoming.
Review date: 27 Oct 2014
Reviewed by: Steve Bennett
Reviewed at: Brighton Dome
Recent Reviews
What do you think?