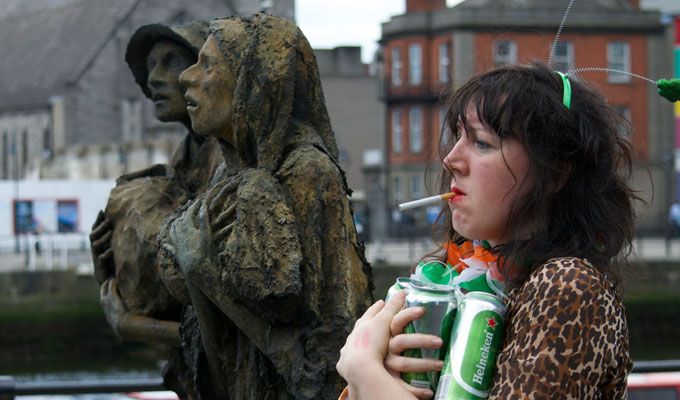 Eleanor Tiernan: National Therapy Project
Note: This review is from 2014
It's probably the form of Eleanor Tiernan's quirky new project that you'll remember more than the content. Asserting that Ireland's national psyche needs to be fixed, she is inviting all citizens to a therapy project, conducted as if a full-on meditation/cognative behavioural therapy session.
After completing a questionnaire to assess our patriotism, the audience – or patients – enter a darkened hall to gently relaxing music. Shedding our shoes, we're instructed to take a sacred talisman (potato) and lie, flat out, on yoga mats and stare at the calming cloudscape projected on to the ceiling.
Over the ensuing hour, Tiernan softly intones a list of the woes that have befallen the nation, inflicted either internally or externally. The aim is for acceptance and forgiveness, then using a series of affirmations to cleanse the soul and become free of the past so we can embrace the future. Or some such New-Agey philosophy.
There appears to be a genuine desire to heal – or at least explore the collective Irish mentality – at the heart of this peculiar show, which borrows heavily from church services in its call-and-response rituals. But it is a comedy, and any big impacts on the national consciousness (British occupation, paedophile priests, Roy Keane…) sit amid a litany of trivial pot-shots and surreal fantasies. And some of the behaviours she describes might, in a different format, have been the basis for observational stand-up.
The inherent ridiculousness of the situation we find ourselves in might solicit giggles, but Tiernan plays it utterly deadpan. She doesn't seek to emphasis laughter either in performance or in writing. In fact, titters are almost actively quashed by the soporific ambiance and her near-monotone. Less deliberately, the repetitive nature tends to make each section outstay its welcome.
After the healing, an exhibition of Irish artefacts, another dimension to this multi-layered show. While it's not, overall, hilarious, her dedication to the idea is admirable, and the experience a memorable one. Even though the formula of simply listing national woes doesn't lend itself to much depth, a picture nonetheless emerges of nation seeking a new personality beyond Church dominance and beyond Celtic Tiger excess.
Review date: 25 Oct 2014
Reviewed by: Steve Bennett
Reviewed at: Galway Claddagh Hall
Recent Reviews
What do you think?