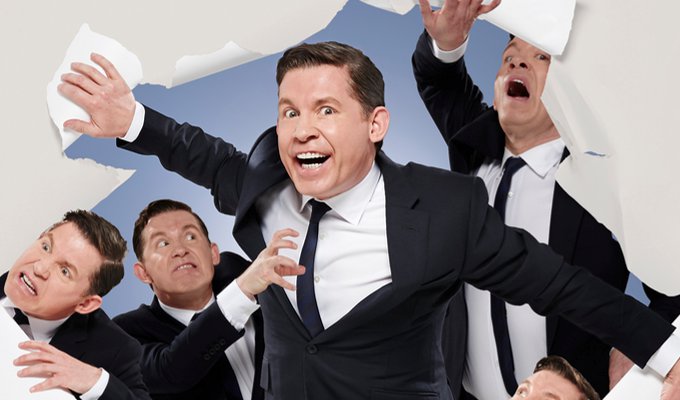 Lee Evans: Monsters
Can 15,000 people a night be wrong? Lee Evans's latest, dreary tour, Monster, is proof they might be.
For this is an evening almost entirely comprised of over-familiar observations and trite punchlines. No one can deny the pleasure his fans get from the experience – but is noting that 'dyslexia' is a hard word to spell given what it represents, really worthy of an applause break? Seems it is…
The show is a whirl of disconnected routines, flitting from one 'have you ever noticed..?' to another. We shouldn't get too hung up on lack of theme or focus; that he manages to go nearly three hours without saying remotely interesting or surprising is the bind.
His aim is to reflect what we've all noticed but never vocalised. Yet so often those observations don't ring true, or involve being wilfully thick as to how the world works. 'Why do you have to take your belt off at airport security?' he complains. Well, it's to stop the metal detectors going off, Einstein…
In aiming to reflect the audience's life back at them, Evans ramps up his 'man of the people' credentials. But he seems almost pathological in his need to be seen to be just the same as us, from the moment he takes to the stage ever-so-humble, gasping at the size of the O2: 'This is ridiculous… this his huge…' Yet he's been a fixture here for nigh-on a decade.
The 50-year-old starts the second half by saying that he never drinks, then goes on to explain, in detail, what a night on the piss is like. With similar disingenuity he talks about catching the last bus home, staying in a £29-a-night budget hotel or even – with no hint of irony – what it's like to be signing on. At its nadir, this multi-millionaire mocks people who work in McDonald's for being a bit dim.
It's surely been a long time since Evans has experienced the things he talks about; but then again he seems like a comic parachuted in from another time, getting perplexed by people talking on hands free phones (observing, unoriginally, that they look a bit mental) or making jokes about the Innovations gadget catalogue that 'you get with the Sunday newspapers'. The catalogue was discontinued in 2003.
Talking of old-fashioned, his tired 'difference between men and women' shtick that dominates the second half is certainly hoary – and includes an odd and out-of-character diversion about whether his wife can 'take a punch' or not. Schmaltzy proclamations of his love does nothing to lessen the dated attitudes.
Over the entire show, it's hard to remember Evans actuality being happy about anything else, with the cynical material making him come across as an intolerant grump, even though his natural demeanour seems a lot more personable and generous.
The only thing that elevates this most pedestrian of material is his cartoony, rubbery face and energetic physicality. The pace is certainly fast, and he builds up his profuse sweat as quickly as ever –  offering some distraction from the lack of substance. He bringing to animated life everything he mentions, from scuttling crabs, to a microwave meal rotating in the oven, to a ping-pong ball coming to rest on the floor.
You can't deny the vigour of this. However the only way you see the subtleties – unless you're in the first half-dozen rows – is by watching on the big screen. It's a positive drawback to be only nearish the front, as you might be tempted to try to watch the comic himself, rather than his projection, and then you'll miss all those daffy expressions.
And if his undeniably popular comedy, playing 65 arena dates, is depressingly generic, wait until you hear the cliched, auto-tuned, sub-JLS pop tat of his own making that he inflicts on his audience at the start…
Review date: 27 Sep 2014
Reviewed by: Steve Bennett
Reviewed at: O2 Arena
Recent Reviews
What do you think?