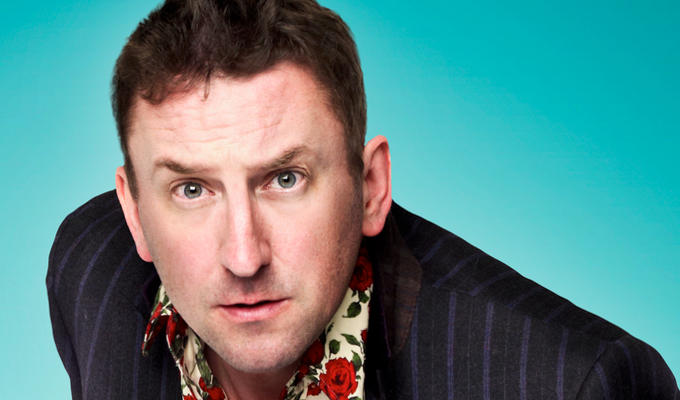 Lee Mack: Hit The Road Mack
Note: This review is from 2014
Lee Mack can boast some wonderfully funny gags, but what really makes his stage show is the shifting dynamic with the audience, which he playfully manipulates.
While most people consume stand-up in flawless TV incarnations or slick, big-venue gigs, Mack engages in plenty of to-and-fro with his crowd, beyond the usual gimmicks to transition between different routines.
Ensuring that chucks of tonight's show will not be repeated, he doles out an barrage of quick-witted insults, with a put-down for every occupation thrown at him and a way of magnifying small incidents in the room to become integral parts of the show. Crucially, he engineers circumstances that put him on the back foot, forcing him to come out scrapping against those he portrays as being hell-bent on undermining him.
His personality – already agitated by myriad everyday irritations – is apparently driven to the brink of breakdown by one woman he engages in the balcony, which lends an unpredictable and combative air to proceedings – even though the hapless punter need to do little to foster it. But he is, of course, far too skilled to ever really lose control of the situation, even making light of the pretence of it all.
The faux-gladiatorial technique is part variety-hall, part-Pontins and part-modern-day comedy club, a pie-chart that pretty much sums up Mack's entire approach to comedy. (He did, of course, start his career working the holiday camps).
So while much of Hit The Road Mack is based on the perhaps familiar gripes of a middle-aged man, struggling with parenthood, mourning the lost romance in his relationship and trying to avoid such tyrannies as the 'walking holiday', he's keen to put on a proper show with it, not present himself as just another everyman observational comic.
If that means corny knock-knock jokes, mindreading, an audience quiz and even an alleged magic trick or two, so be it – even though none of these elements are, of course, quite what they seem. Mack, who paces the stage with an impatient urgency, is unapologetic in his showmanship. He's a gag-man, too, with a generous supply of quotable one-liners, normally prefaced by a disingenuous assertion that what you're about to hear is 100 per cent true.
This is cheeky banter in its real sense. Mack plays up the stereotypes of the unreconstructed male - all Carry On libidinousness and self-serving idiocy – but with a brilliantly sharp wit it's virtually impossible to emulate.
In contrast to the effusive Mack, support comes from world-weary Mike Gunn basing his deadpan routine entirely on the differences between men and women. He's even made a list of things only women like to help with his comparisons - candles, anniversaries, that sort of thing. It's clearly a little clichéd, but masterfully executed, with astute, droll commentary and polished construction. It's more than enough to overcome the disappointment that inevitably greets every support act when they first grace the stage.
Review date: 23 Sep 2014
Reviewed by: Steve Bennett
Reviewed at: Leicester De Montfort Hall
Recent Reviews
What do you think?