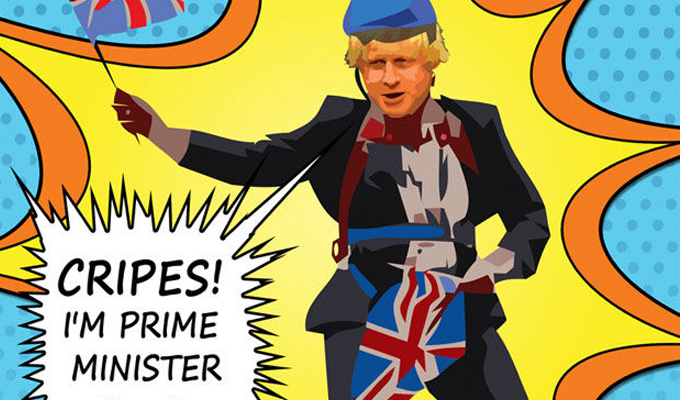 Cripes! I'm Prime Minister
Note: This review is from 2014
This must be the first time a musical has ever been penned to a prospective parliamentary candidate for the seat of Uxbridge and South Ruislip. But then there's never been a PPC quite like Boris Johnson either.
And maybe it's apt that Cripes! I'm Prime Minister is muddle-headed and scruffily presented – but nonetheless has a lot of raffish charisma.
Actually BJ is just one strand of this shaggy revue, and not the best one either. The hour struggles to capture his persona – already pretty a much a parody in real life – focussing extensively on his Latin skills and his lechery to the exclusion of much else. The actor playing him, Chris Fairall, is no mimic, either, and doesn't really reflect the essence.
The show's mangled premise is something to do with election to head boy (or Prime Minister, the terms become interchangeable) at an elite all-male private school, where the other pupils include David Camarooned, Nick Dreggs and Ed Millpede – all played by one poor overworked actor, Hamish Colville. It's pretty much Private Eye's Beano-inspired parody strip Snooty & Co.
Somehow they shoehorn in versions of Hilary Clinton, Carla Bruni, Pippa Middleton and many others, too. Plotlines and logic are an inconsistent mess – and while narrative intrigue is not exactly the point of this exuberant piss-take, it would make a difference, since pretty much all the school-based palaver just gets in the way, and the cash-for-access turning point just a nonsense. Still, this production at the tiny Canal Cafe Theatre is still a work in progress, as the 'customer feedback' forms we're invited to complete makes apparent.
And 'nil desperandum' as BoJo himself might say. What Cripes! does boast is a lot of boisterously silly set pieces; whether it's Vladimir Putin going full-sparkle gay disco, the brutally unemotive tones of Angela Merkel, or a well-choreographed chorus line high-kicking their way through an upbeat number about the innate social awkwardness of being a Brit.
Small asides are often entraining – the brief appearance of Scottish nationalist Alex Slamem with an actual chip on his shoulder is a delight, who doesn't overstay his one joke. Subtlety is not an issue in this script, by Gabriella Burnel (who sang a song about the judges when she appeared on Britain's Got Talent three years ago) and others, but that becomes a virtue, a cartoony-style exaggeration done in rollicking high-spirits.
Along with the similar - though much more sure of itself – Margaret Thatcher Queen Of Soho currently wowing audiences, there's clearly something in the air for politics reimagined as over-the-top cabaret. And as Johnson's political stock continues to rise, this show can only get more relevant as it fixes its issues. Fortitudo per perseverantium!
Review date: 22 Sep 2014
Reviewed by: Steve Bennett
Reviewed at: Canal Cafe Theatre
What do you think?