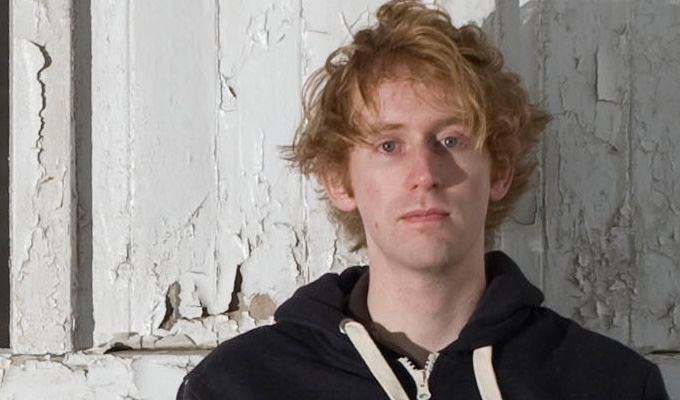 Mark Simmons: Mr
Note: This review is from 2014
To put it simply: if you like Tim Vine, you'll like Mark Simmons, who shares the same love of a tight, silly pun and crushes an admirable quantity into his solo debut, without sacrificing quality. There are plenty of bangs for your buck in a show packed full of lines you'll want to quote later.
But he's also well aware of the constraints of that format when it comes to providing the variance in pace and tone needed to sustain an hour; and that's when he gets really inventive, with some slow-burners that can take almost the whole span of the show to reach their ultimate reward. What initially appears to be simply bizarre and amusing behaviour is actually planting the seed for a payoff way down the line. And sometimes a callback will come from nowhere, to a gag you long thought exhausted.
Even the show's unexciting title, Mr, is a punchline for a joke he thought of when filling in the Fringe application form. That's the sort of patience he has to see a gag through to its conclusion.
Fortunately the audience need no such forbearance, as you're never more than a few seconds away from the next laugh; and he mixes up the styles, too, from quirky one-liner to something a little more intricate, perhaps involving a prop, or a short passage read from a book. Groaners are mixed with more clever constructions, and it's a benefit to have both.
Simmons – a So You Think You're Funny? finalist from five long years ago –  delivers in a straightforward, affable conversational style, which for a punslinger is surprisingly unusual. But in neither following the dry deadpan of acts who appear terrified to deliver outside of Twitter, nor going for the cheesy oversell of Vine, he finds a more distinctive style, neither bewildered oddball nor smug at his own inventions, but somewhere in between.
Only one section went a little odd, when a joke about Chinese whispers didn't have enough clarity in the delivery – ironically – and the audience started playing the game, unsure if if was supposed to be played seriously, flippantly, or not at all. The answer was c)
But misfires are rare from a talented comic with an artisan's grasp of joke-writing.
Review date: 26 Aug 2014
Reviewed by: Steve Bennett
Reviewed at: Just the Tonic at The Mash House
Recent Reviews
What do you think?