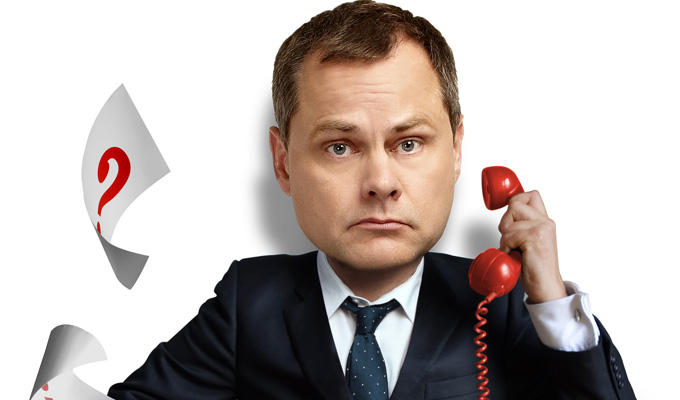 Jack Dee's Help Desk
Note: This review is from 2014
This is a simple format that's quite clearly being developed for TV or radio. The audience submit the problems that ail them, and Jack Dee and his panel of comedians become ill-equipped agony aunts offering possible solutions.
Yet the comedy seemed to come almost despite the suggestions, rather than because of them. That could just be a matter of needing more careful selection, but could signify a more elementary problem with the idea as it's often not entirely clear how much levity should be bought to the real-life problems – which tend to be fundamentally insoluble in any case.
The first tonight came from a woman concerned that when she went out for a drink, she'd always have too many; how should she slow down? Panellist Celia Pacquola came up with a surreal solution, but otherwise no one could really get a handle on it. And the second was even less fertile comic territory, as a group of women said they were fed up with being slowed down by a friend who had a dodgy knee and needed an operation. Understandably, no one was quite sure about being cruel to a disability, even a minor one.
Things only really took off when the panel – also comprising Phill Jupitus, Shappi Khorsandi and Ivo Graham – used the questions to launch into their own anecdotes. Of course, being comics they are eager to top each others' stories and lob in nifty one-liners.
Khordandi seemed to have enough entertaining troubles of her own not to need any input from the floor, while Graham impressed most with his quick wit, primality a masterful use of callbacks that tied various stands of the show neatly, and hilariously, together. Jupitus, the most experienced improviser of the lot, helped sustain some running gags, too. As chairman, Dee rationed his contributions, but when they did come his weary deadpan and often witheringly dismissive quips hit the spot.
With such a strong panel, laughs inevitably flowed… but it seems that a show about problems might have one of its own: that the jumping-off point for the comedy is too uncertain. But maybe given a three-hour recording and a half-hour edit – like certain TV formats – this would work.
Review date: 25 Aug 2014
Reviewed by: Steve Bennett
Reviewed at: Assembly George Square
Recent Reviews
What do you think?