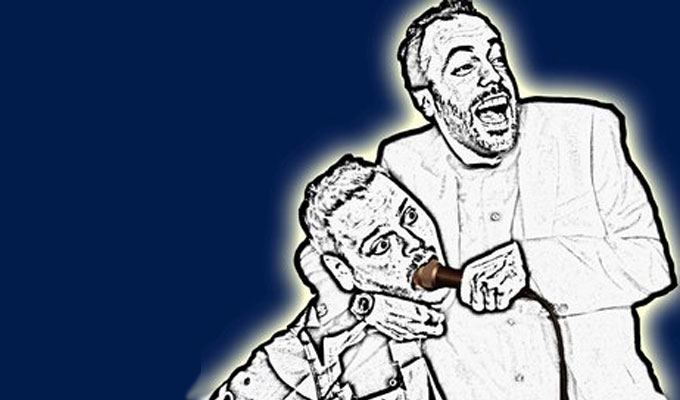 Gagging For It
Note: This review is from 2014
Talk about writing what you know. Gagging For It is a play that seems to be the culmination of a thousand post-gig car journeys that writer Tim Clark has shared with other comedians.
Set in the dressing room of a Best Of The Fest gig at the Edinburgh Fringe, the four central characters are all familiar archetypes from the circuit who exchange pointed banter, industry gossip and barely-concealed insecurities.
Most dominant is Scott Dobson, a charismatic alpha male, bully and incurable shagger who's just landed his own TV series, boosting his already stratospheric ego (he thinks Louis CK is 'shit' in comparison). Not that success means his brand of 'misogynistic smut' will win him any more respect from other stand-ups.
In contrast is long-serving journeyman Jim, a club stalwart who's accepted this is his lot and offers a calm voice of experience to his colleagues. Then there's Ravi, the super-keen but almost dysfunctionally dense newcomer, full of energy, enthusiasm and, most of all, desperation, but not a lot of talent. And finally Dan, dubbed 'Micky Mainstream' by the others for his reliance on cheap gags and magic tricks.
They are all played by comics: Jonny Freeman (a regular MC at The Funny Side comedy clubs in London), Matt Welcome, Imran Yusuf and Martyn Hill, another Funny Side regular; while Susan Murray plays the gig's booker. So they should know what they are talking about.
For the first 15 minutes or so, the script ambles along without much consequence, general grumbles about the industry and knowing references about Broadway Baby, the Gilded Balloon bar and the like, which is a bit too much of an in-joke.
But as the personalities flesh out, and a note of drama eventually introduced to the landscape, things step up a gear, and events draw you in, bringing an appeal beyond the comedy community. As each comic demonstrates a willingness to stab their mate in the back for just a whiff of career advancement, a universally recognisable motive.
There are some bumps in the plot: primarily that the motives and actions of a TV researcher who interrupts the backstage dynamic seem driven by the need for story resolution rather than from her character, while a sub-plot in which Murray's promoter is drugged seems tacked-on, although it does provide some broad comedy.
The quality of the acting is inconsistent across the cast, but they all do a reasonable job. Yusuf is especially strong in capturing the annoying eagerness of the rookie, while Welcome has the seen-it-all wisdom of an old hand, without seeming disillusioned with comedy. Judging by this, writer and Comedy Store regular Clark might not share that same lack of cynicism.
Review date: 25 Aug 2014
Reviewed by: Steve Bennett
Reviewed at: SpaceCabaret @ 54
What do you think?