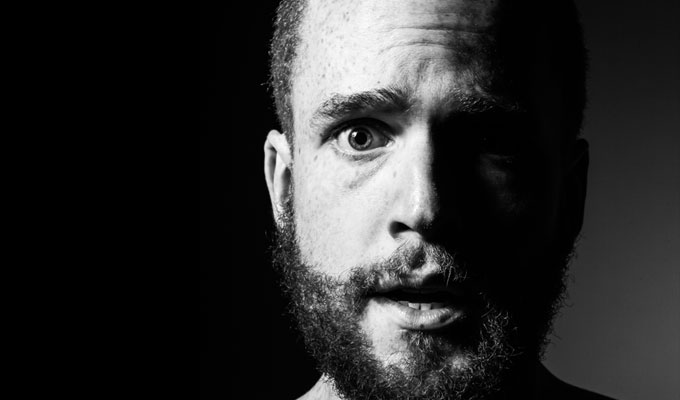 Goose
Note: This review is from 2014
In this chaotic comic theatre piece, Goose seize upon the formulaic whodunit format, give it a violent shake and leave you with something rich, strange and inexplicable instead.
Adam Drake and his cohorts have conceived such an original, ambitious edifice that it barely matters that it only comes together in the most tortuous and contrived manner. Indeed, that's rather the point.
The plot revolves around erstwhile Friends star David Schwimmer – largely it seems, because of the punning potential on his name – latterly fallen out of the limelight and now the victim of a hate crime, the word 'poof' spray-painted onto his car, apparently because he sought to have the car park in his local town demolished.
Drake is our narrator and all the characters in the story, with Hatty Carman also on stage, maintaining steady guitar accompaniment throughout.
Opening with a visceral account of Schwimmer's birth, Drake, a self-proclaimed 'ginger Tigger', garbles through the exposition while leaping in out of the various supporting roles, flinging his angular limbs about with manic intensity.
A charismatic physical spectacle, he's never once off stage, hurtling through scene changes with a spin on his heel, sweat flying off him onto the front rows. The feverish delivery, as his body races ahead of his words and vice-versa suggests a careering lack of control. But it's done for comic effect, the attentive musical shifts and slick lighting changes belying the knockabout, amateur-hour gawkiness.
He also demonstrates himself to be an alert improviser, skilfully working latecomers into the narrative and occasionally breaking the fourth wall, his lung-bursting intensity in stark contrast to the bemused-looking Carman, whose playing imposes a sense of structure that would otherwise be absent. Satire is layered upon satire, as crude digs at the likes of Michael Gove and the Cambridge Footlights are commented upon in asides, but with an acknowledgement of their smug, self-satisfied pretension.
Drake embodies all those with a motive to wish harm on Schwimmer, including the local ghost tour operator and street artist, not to mention a curiously inhibited Matt Le Blanc, some unspecified horror in his career having rendered him tongue-tied and terrified. And as Schwimmer, Drake strikes an ill-advised bargain with Satan (also played by himself) about his ability to solve the crime.
The characterisations are broad and essentially unrecognisable where any of the celebrities are concerned, with the plot unfolding as if by free association, mention of Monica in Friends seguing directly into the song Mambo No. 5, the twists and turns seemingly less important than Drake wheeling around like a man possessed.
And yet all is not quite what it seems because Schwimmer hasn't quite given up on his film career. And the show suddenly folds back in on itself in a way that's completely unexpected, leading to a riotous, freewheeling finale in which the solving of the crime becomes almost incidental.
Entirely ephemeral, you're left with nothing but admiration for Drake's committed performance and a piqued interest in where Goose might take their innovative performance ideas next.
Review date: 22 Aug 2014
Reviewed by: Jay Richardson
Reviewed at: Assembly Hall
Recent Reviews
What do you think?