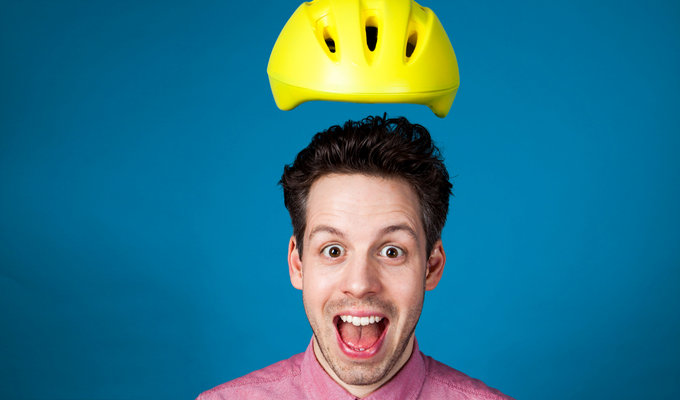 Nick Hall: Helmet
Note: This review is from 2014
Best known as the short one from sketch group The Three Englishman, Nick Hall is progressing steadily as a stand-up, even if he's still struggling to find something that sets him apart.
Being 5ft 6in doesn't really cut it. Nor truly, does the belated enthusiasm for cycling that he's developed and which provides the narrative thrust of this hour. Involved in an accident, he flew through the air and in time-honoured fashion, his life flashed before his eyes…
Unfortunately, the most compelling story in Helmet revolves around the life he didn't choose. A Russian politics graduate, he was approached in 2007 by MI6, their recruitment policy worryingly similar to that of a summer job at a high street electrical retailer for the slow-on-the-uptake performer. Suffice to say, he struggled with the discretion required for espionage.
That trait of sharing a little too much at least informs a series of amusing anecdotes, wherein the 32-year-old presents himself as a bit of a loser - an unsuccessful comic more likely to be watching television than on it; uncomfortable around 'laddy' men; fond of football but unable to express his love for it in a way that doesn't reflect his arty pretentiousness.
Throughout, he projects more of a character than a fully realised stand-up persona, which is ironic, as there's no reason to doubt the essential truth of his stories. Certainly, when he describes Sarah, the girl that got away, she feels less genuine flesh and blood and more of a device to reaffirm his self-effacing shtick.
At least failure with women provokes his critique of some of the more banal cliches applied to love. And there are some really well-written gags dotted right through his engagingly delivered set. Hall knows all the stand-up tricks and also serves up a section of pithily witty non-sequiturs that he couldn't fit into his main tale.
Wrapping it all up pat, he rather satirises the Fringe tradition of a homily revealing what he's learned from his accident. Still, it's a pity that couldn't arrive at something less artificial instead.
Review date: 21 Aug 2014
Reviewed by: Jay Richardson
Recent Reviews
What do you think?