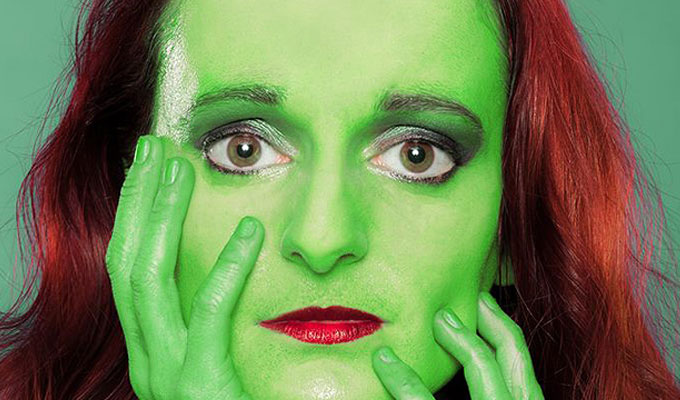 Sooz Kempner: Defying Gravity
Note: This review is from 2014
Sooz Kempner auditioned for the West End show Wicked, but didn't land a part – a decision that bothers her to such an extent she's made a Fringe show to complain about it.
She also has quite serious issues with her father, an amazing singing voice and an ability to make the audience fall in love with her. Clearly a born performer, Kempner is instantly engaging, delightfully quirky and bubbling over with energy, sickly sweet at times. She looks like she could burst into song at any minute and frequently does. In fact the entire show is like an angry YouTube video aimed at the producers who spurned her, hoping they will see it and beg her to join their show.
Defying Gravity is definitely for the luvvies, and anyone interested in theatre or even remotely a fan of Wicked should love it. That's no reason everyone else shouldn't as well.
Although self-deprecating Kempner plays the ditzy card too often, it's hard not to get swept up in her self-indulgent maelstrom. She is very likeable. The audience tittered often and heartily through her elaborate and emphatic talk of horses, auditions, selfies and Christina Aguilera. She puts a projector to good use and even finds humour in the font used on screen.
Kempner talks at length about her father and isn't keen on him. The last 20 minutes or so are dedicated to expressing this dislike in no uncertain terms. She dissects an angry email that her mother received from him, it is 7,500 words long. Wackiness must run in the family. While fantastically funny, this section is rather touching too. She tells of these troubled times in a style that defies the audience not to laugh.
Maybe it was the large number of theatre types in the room or maybe it was a magic that she creates herself - there's a definite sheen in her eye – but there was strong feeling that the audience could have got up and formed a chorus line if she'd asked them to. There was a lot of singing from her, but it was very much second fiddle to her manic and frantic stand-up, a brilliantly light-hearted way of forming interludes between distinct segments.
Kempner's incredibly infectious smile holds the attention for an hour without any lull, building up to a stunning finale where she really shows off her lungs. This is a woman who belongs on a stage.
Review date: 20 Aug 2014
Reviewed by: Graeme Connelly
Reviewed at: Fingers Piano Bar
Recent Reviews
What do you think?