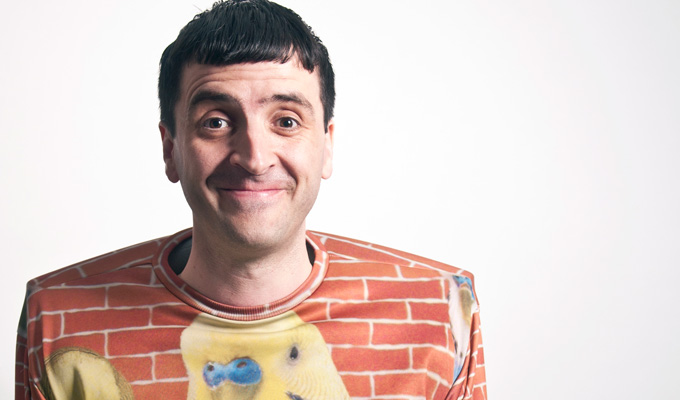 Spencer Jones Is The Herbert
Note: This review is from 2014
Spencer Jones's clownish alter-ego – a sort of grubby Mr Bean – is clearly not for everyone, losing nearly three full rows to good-natured walkouts in this performance.
But although inconsistent, there are some appealing, inventive displays of physical comedy from his wide-eyed man-child character with the pudding-basin haircut. The idea is that builders renovating his house have left their tools around, and he can't help but muck about with the hardware, coming up with imaginative new uses for lagging, brackets, two-by-four lumber and so forth. His energy is of an unhurried bloke tinkering around, killing time.
A student of Philippe Gaulier – aren't they all? – Jones has donned a peculiar outfit of translucent leggings, hideously gaudy T-shirt and a jacket which still seems to have the hanger in to become The Herbert. He mutters away in semi-coherent noises, almost like a Teletubby, showing off his inventions to the audience with the excitement of a four-year-old displaying their finger painting.
This prop work teeters from the indulgent to the inspired, but there are some gloriously hilarious images conjured up here – unique, too, given his starting point. As well as the hardware, there are some discarded toys, and he has some special fun mucking about with a box of groan tubes and a battered cheap plastic doll, voiced with a swazzle - the doohickey Punch and Judy men use to create Punch's high rasp. Sometimes it looks like this mucking about isn't going to plan, but I suspect that would be to underestimate Jones, who's clearly applied his full creative faculties to this distinctive hour.
The show takes a turn even deeper into the surreal with a routine in which The Herbert takes drugs, producing an image so uproariously disconcerting that a couple of the younger girls in the front couldn't bring themselves to look him in the bulbous eye, and turned away in comic revulsion. But in fact this is physical character comedy well worth keeping an eye on.
Review date: 17 Aug 2014
Reviewed by: Steve Bennett
Reviewed at: The Hive
What do you think?