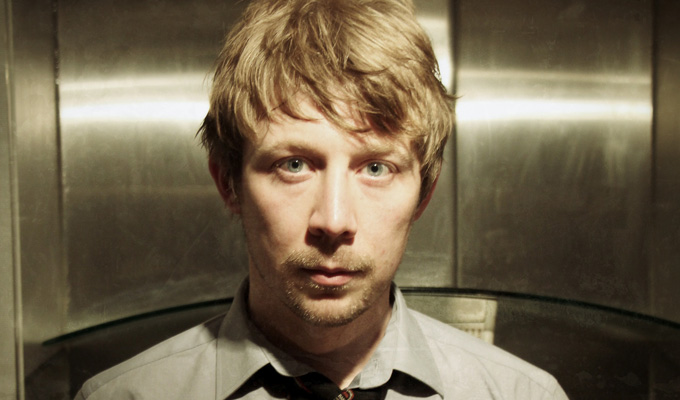 Tommy Rowson: Down And Out In Powys And London
Note: This review is from 2014
At the end of his show, Tommy Rowson shows a montage of home videos and photos of the people who illustrated his stories, his granddad, his dad, his fat mate and more. It was the first time they ever seemed real.
For although this dry Welshman had a gift for a comically whimsical turn of phrase, he's markedly less assured at telling a story with credible characters and compelling story Much of this is down to the delivery, a dull, weary monotone that makes the hour more of a slug than the material alone would suggest.
It's not that he hasn't the raw material. Another montage at the top of the show reveals his rap sheet includes pulling a gun in a public place, while his grandfather was a serial fraudster.
The biographical is mixed with a clumsy structure, based on a list of reasons his ex, Rhian, allegedly gave as to why he wasn't the man for her, and she left him for a successful man with his life and emotions together. He limps through these major personality defects, crossing them off or underlining them, or adding more, without really addressing any of them. It's not entirely clear if he's half-heartedly using this as some sort of self-improvement checklist, or sometimes just as chapter headings.
Meanwhile, he tries to thread analogies with Jesus through all the material, and it doesn't work at all. It's as if he's taken the brilliant ten-minute set that got him so far in so many new act competitions and pulled all the individual strands as far as they will go, with little concern if this now holds up as an coherent hour. It doesn't, not really.
He has some nice lines, normally about his drinking, where he has simple tastes but a voracious appetite; and can be lucidly expressive in describing details of his rather down-at-heel world, a little like the Orwell book the title puns on, though not as abject. However we're never really led to feel part of it, or care about the people in it.
Review date: 16 Aug 2014
Reviewed by: Steve Bennett
Recent Reviews
What do you think?