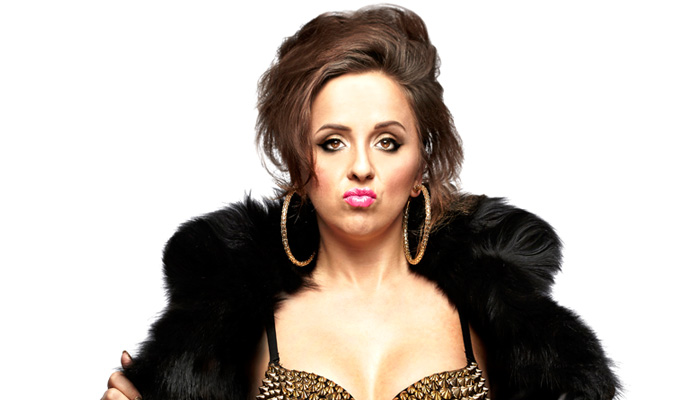 Luisa Omielan: Am I Right Ladies?
Note: This review is from 2014
Is she right, ladies? She's *so* right – and inspirational, and hilarious, and sassy and just about the best tonic you could hope for from a comedy show.
Two years after wowing Edinburgh with her breakthrough hit What Would Beyonce Do?, Luisa Omielan has done it again with this all-out celebration of womanhood – loving her curves, loving her sexuality, loving the new-found confidence her soaring career has given her.
This is feminism with a fun-loving, feisty swagger; two fingers to the tight-assed Hollywood agent who thought her too chubby and old for Hollywood, to the men she stupidly relied on for validation, and to the inner critic that holds so many women back telling them all the reasons not to take a risk.
She demolishes the 'girls aren't funny, except to other girls' claptrap in a wonderfully exaggerated routine about prejudice about comedy – but more importantly by being wantonly hilarious. Whereas the Beyonce show was born from her depression, Am I Right Ladies? comes from a happy place – and she's not going to let anyone else's issues take a dump on that.
Omielan won't be 'slut-shamed', no matter what a morally misguided media might say, what's wrong with liking sex? Her routine about the awkward post one-night-stand encounter is a brilliant take on a familiar situation, perfectly summing up sexual politics, and men's swagger versus women's insecurities. Yes, there's a certain stereotyping there, but also a good dollop of truth.
Am I Right Ladies? is a resolutely upbeat show, but not one of vacuous 'you go girl' platitudes. She lays her own emotional problems open, especially with regards to the black dog of depression, and does fine work in normalising a condition millions suffer, but few talk about, with no sense of self-pity. Extra-pertinent in the week the world lost Robin Williams. That said, the crowd all has a little, forced, sob to Adele – but that's just a tongue-in-cheek release.
The performance alternates between such cheery honesty and raunchy physicality, as she strips down to her bra and Spanx. She crawls over the crowd and dances aggressively to make a point. Her face is just as expressive, wonderfully miming her inability to cry while on antidepressants, or her disgust at a blow job.
It makes for an invigorating, rambunctious ride through the female psyche, conditioned by societal repression. But with high-energy tunes, too, and a strong sense of fun. You'll have the time of your life, and you'll owe it all to her.
Review date: 16 Aug 2014
Reviewed by: Steve Bennett
Reviewed at: Laughing Horse @ The Counting House