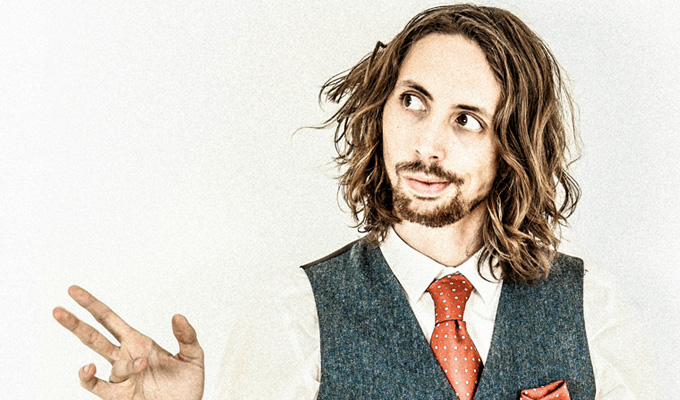 Eric Lampaert: Testiculating
Note: This review is from 2014
During a brief section about his unusual upbringing, half-French, half-English comic Eric Lampaert reveals that he was briefly homeless in his youth, leading a nomadic life, drifting between friends' homes. 
He is no less settled in his stand-up, the outpourings of a mind wandering impulsively and briskly from topic to topic, a lose, vibrant stream of conversation.
Observation, anecdote and social commentary jostle for position with shorter, sillier gags as his animated, wiry frame jangles around the stage.
He says he started stand-up in a mood of carpe diem a few years ago after a brush with death - and although he mentions blacker moods and negative thoughts - on stage at least he is the smiley life and soul, warm and likeable.
Lampaert often displays a unique way of seeing things, especially in the peripatetic first quarter of the hour, when all manner of splendidly offbeat gags get an outing. As he settles into longer, more settled routines the 27-year-old moves on to pranks played on airport security guards - probably more imagined than executed - and even though this is a slightly overdone topic in comedy, his impish enthusiasm drives the laughs.
Same with the biggest section of the show, about the oddball UKIP supporter who claimed  floods are God's revenge for gay marriage. Like many a comic he gets laughs for pointing out the preposterousness of that opinion – as if the stupidity was in any way buried and in need of unearthing. Yet some of his more fantastical routines gain traction through sheer strength of personality, certainly not material.
Lampaert says he's often branded naive for his utopian ideas, and his philosophies do just add up to 'be excellent to each other' – but Russell Brand has somehow become a political opinion-maker on less, and you can't fault the sentiment.
Another section about how he would reimagine porn based on his neuroses gets a little closer to the real him – a subject he otherwise wilfully avoids – yet the routine doesn't quite take off as it might.
This feels like a show in which Lampaert's overactive mind is throwing up all sorts of comic approaches, and he's dabbling a bit in all of them. And to be fair the title doesn't exactly suggest a well-considered manifesto. Luckily he has the nervy charisma to pull it off.
Review date: 14 Aug 2014
Reviewed by: Steve Bennett
Recent Reviews
What do you think?