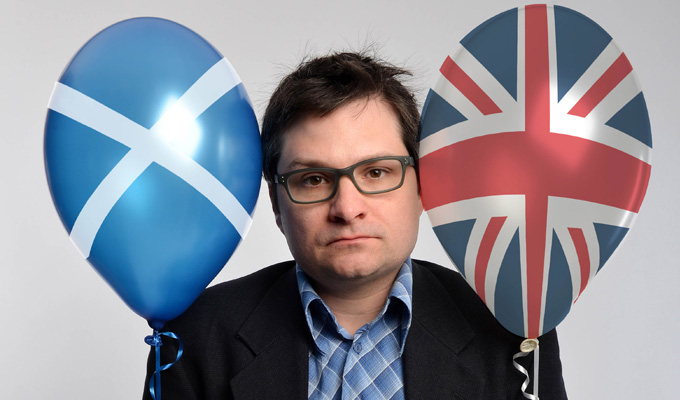 Erich McElroy: The British Referendum
Note: This review is from 2014
Treading carefully through the minefield of referendum-based material, Erich McElroy is brave if nothing else.
With little more than a projector and a laptop, McElroy (an American with a British passport) gingerly expresses his opinions on Scottish independence. Coming down on the 'no' side of the fence is a bold move at the Fringe, for as he points out himself, there are few passionate no voters.
Thankfully McElroy never forgets to add balance by mocking all sides evenly. What he did forget were the jokes. There were a couple of light-hearted gags and the occasional titter from various pockets in the crowd. Generally speaking, though, there was little to laugh at. A slide show with a few humorous lines does not a fringe show make.
Without rhythm or style, whiny-voiced Erich drags his listeners painfully through an hour of mocking American politics, with a few mentions of the referendum in there for good measure. The funniest parts were spent watching clips he has taken from the internet. He mocked them in a non-committal if jovial way, it isn't hard to watch American politicians speaking and find something funny.
With more from Capitol Hill than Whitehall or Holyrood, it didn't feel like there was anything Scottish to be said at all. If it were not for the odd and obvious Alex Salmond reference and the fleeting genius of comparing Alistair Darling's eyebrows to those of Groucho Marx, this would have felt distinctly American throughout.
Redemptive, perhaps, was his genuineness. McElroy does believe in what he is saying – he just wasn't really saying anything of interest. This detracted from a handful of gags that could have been funny if they had been delivered with conviction.
It wasn't all bad. It just wasn't good. The set feels incomplete; there is so much potential for this theme and a smattering of weak jokes thrown around a couple of funny videos doesn't really feel like justice has been done.
Fearing to offend maybe stopped him going far enough or could it be there is only so much to laugh at on this topic and all the good stuff has been taken already? Unlikely, sadly for Erich McElroy, it's a no vote from me.
Review date: 13 Aug 2014
Reviewed by: Graeme Connelly
Reviewed at: Just the Tonic at The Grassmarket Centre
Recent Reviews
What do you think?