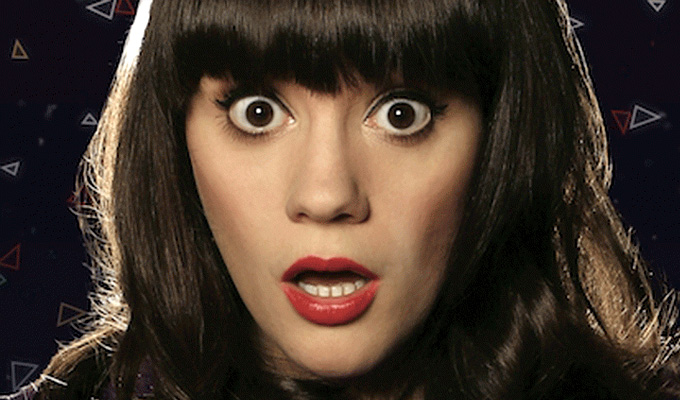 Vikki Stone: Instrumental
Note: This review is from 2014
Vikki Stone's new hour is an ambitious one, delivering little short of the soundtrack to her life and a tribute to her late father using 20 different musical instruments.
Him returning one night from the pub with a piano set the pattern for Stone to fall in love with performance and to fear for her father's childlike capacity for self-indulgence. One of the most memorable stories is Stone's account of him embarrassing her as a teenager at a skate park, the Chuckle Brother-lookalike refusing to accept that he couldn't negotiate a half-pipe on a borrowed board.
Talking while flashing family photos on to the screen behind her, she capably conveys the role that music had in shaping her personality, a precocious, stage school brat who never really fitted in with the posh kids, her scholarship arriving via the flute, guaranteeing her an unsexy adolescence.
Rather than decry the likes of the electric guitar or saxophone as cooler instruments, she admonishes the string sections for their 'cum faces' at the point of tuneful ecstasy. A pacy soft rock number follows a montage of such features, and while diverting enough, feels like filler when she has so much to get through.
Jumping back from a poignant account of her father's funeral, she details her chequered employment history, the subtext being that she was always destined to command the spotlight rather than organise nationwide salad distribution for Marks and Spencer. Two of the best anecdotes here concern her unwitting participation in a porn film and singing backing vocals for Elton John, the latter a moment she uses to inspire plenty of daft audience participation.
The odd keytar malfunction aside, she's impressively and typically slick running through her varied assortment of begged, borrowed and purchased on eBay instruments, revealing what each means for her, while looping her backing tracks with little of the self-conscious showiness or fuss of many of her musical comic peers.
The final section, in which she recalls her father's deterioration through alcohol is sad and affecting, yet she retains enough witty callbacks and wry perspective to ensure the show doesn't finish on a downer. A well-judged finale, in which she invites everyone in the crowd to jam with her, ensures an abiding feelgood factor.
Review date: 12 Aug 2014
Reviewed by: Jay Richardson
Reviewed at: Underbelly Cowgate
Recent Reviews
What do you think?