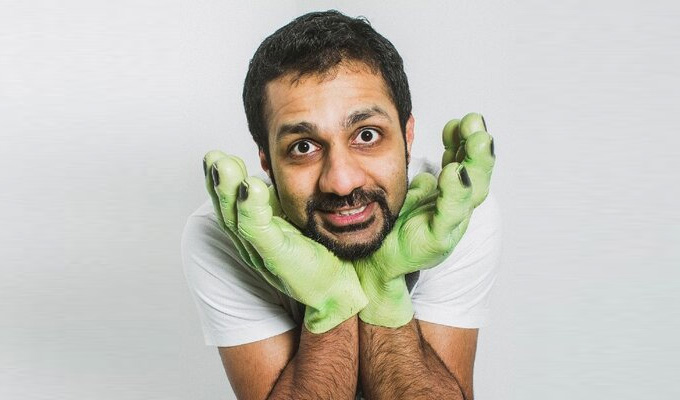 Mickey Sharma: Sharma Sharma Sharma Sharma Sharma Comedian

I can only give 70 per cent of a review, unfortunately, as on this night we only got 70 per cent of a show.
A badly scheduled brainfart on Mickey Sharma's part meant that he dropped a good chunk of his show, which came in at just 35 minutes. It was his and my bad luck that's the show I was at.
What Sharma did for his debut show was make a bonfire of his club material in order to retire it, I assume, and start afresh. Being a Friday night, there was a stag party in and Sharma used some old standards in order to keep them in their place, with nothing new being deployed. Brokeback Mountain is an old film now, never mind an old reference.
The good stuff, the interest, came from his true story, being an Indian immigrant, here to study, and beginning UK life in Birmingham the day after 9/11.
The material about culture and integration was factual more than funny, but could be have been pushed further. But he is very engaging, his face is expressive, huge eyes and a mobile mouth and great clarity of speech made him look like his own Aardman animation.
Sharma is good at accents, deploying some stereotypes that would get Jim Davidson banged up by the comedy police, but it's OK because… isn't it? Is it?
The personal material and personal charm went quite a long way to being winning, but there was too much of the very ordinary (fat girlfriend), performing for the troops (spoiler, it's not the UK troops), Americans not getting you can be Asian and English, and then to top it off some efficient beat-boxing which gave a big finish to the short show, but didn't add to or illustrate anything other than it's a skill he has.
Sharma's first hour was not his finest, but it leaves room for development.
Review date: 12 Aug 2014
Reviewed by: Julia Chamberlain
Reviewed at: Laughing Horse @ Espionage
Recent Reviews
What do you think?