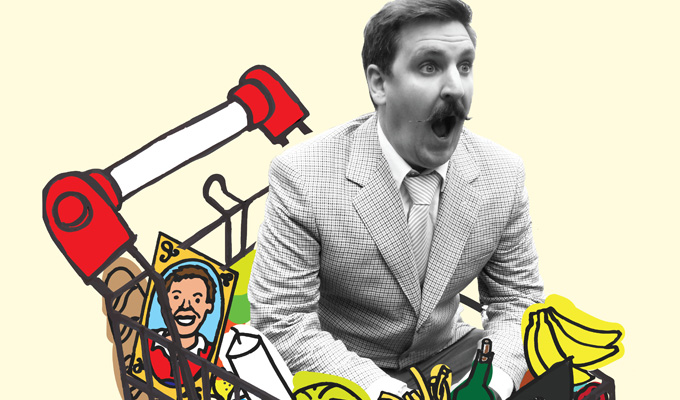 Ali Brice Presents: Eric Meat Wants To Go Shopping
Note: This review is from 2014
Ali Brice's solo Edinburgh debut is one of those joyously bonkers festival treats that any comedy-lover should be delighted to stumble upon.
He's known, if at all, as a member of the Weirdo's collective of newer alternative acts, and absolutely lives up to that name here, peddling 50 delicious minutes of silly, eccentric, fun, based on playful audience interaction and stupidly exaggerated characters.
The Eric Meal of the title is a teacher from Humberside, which if anything sounds a little mundane for comedy gold. But he is in unrequited love with a checkout girl, with whom he believes he can communicate by talking to a candle, as if it were some sort of waxy Skype. As he explains this unlikely scenario to the audience, with the occasionally wonderful turn of phrase to depict his loneliness, he banters with spirit and a hair-trigger intolerance for any response he's not happy with.
He describes in passing the triangle of fire showing the three elements you need for combustion: oxygen, fuel and heat. It seems the neatly-moustachioed Brice has his own triangle of comedy characters, requiring stupid accent, major psychological flaw, and insane audience interaction.
Later Brice plays a creepy Phil Collins – is there any other type? – wonderfully realised with the aid of orange face-paint and some cardboard, to dole out some ill-considered dating advice to the hapless Meal… while the most surreal character of the lot ultimately gives a new perspective on the hoped-for romance in a gloriously over-the-top performance, full of great jokes and overwrought emotion. Low budget needn't mean low energy.
These are all strong creations from an off-kilter mind, but they pale next to the exploits of Nigel Buchanan, who presents a segment called Not Art Attack in petty response to his absent son Neil. This character's dismissal of his son's work is brilliant, as are his own messy attempts to create both an artwork of his own – and a sandwich. And yes, audience participation is again required.
But describing what happens can't do justice to the anarchic spirit that pervades a show that never goes quite where you expect, and backs up its over-the-top set pieces with solid comedy writing. Credit's due to director Adam Larter (another Weirdo) for keeping things tight, while Brice's performance has just the perfect level of exaggerated oddness without tipping into the self-indulgent.
Review date: 11 Aug 2014
Reviewed by: Steve Bennett
Reviewed at: The Hive
Recent Reviews
What do you think?