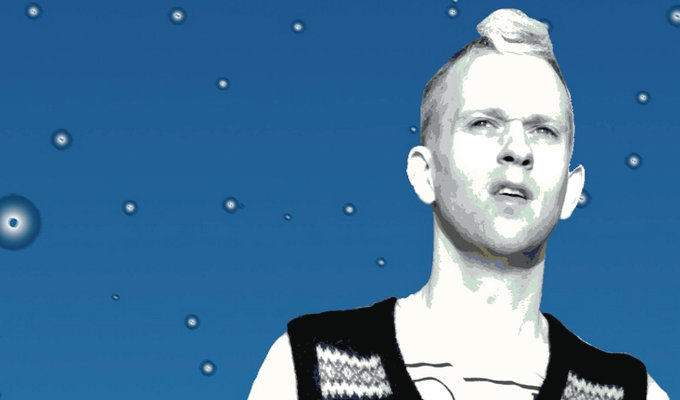 Robert White - The Curious Incident of the Gag and the Gun-Crime… Plus More Stuff!
Note: This review is from 2014
The stench of vomit is always going to be an obstacle to anyone performing in The Hive, but Robert White did not let it bother him. He killed with this show, matching an amazing presence to clever jokes and pitch-perfect delivery.
He shuffled on to the stage, completely covered in a blue bin bag and playing the trumpet – but White isn't crazy; he has Asperger's Syndrome, which makes him see the world in a literal way. He immediately begins an onslaught against the front row. No room for the timid here, sailors would blush at some of his comments.
Trumpet forgotten, he hides behind a keyboard, constantly twitching and fiddling with the mic stand or the knobs and dials on his board as he expertly jingles his way through his act. Musical comedy is so frequently hit-or-miss, but here the music is an accompaniment to White's nicely written gags, delivered with an acute sense of timing.
He plays the keyboard beautifully, with the lyrics far from beautiful. But he garners serious rounds of applause and howls of laughter. He caters the songs directly to people in the crowd, and most of the front row get a mention more than once.
Devastatingly rude to those who come to see it, he defends it by referring to his Asperger's. No further explanation needed.
At one point he commented repeatedly on the laughter as it moved around the room, describing each individual's laugh and how it infected others. It is uncomplicated and obvious, yet we can't help but get caught up in it. He never lets up, his sharp humour moving with the flow.
Super-fast quips follow any piece of information gleamed from the willing audience. Simple puns and what should be cheap gags are lent gravity simply by the carefree and confident torrent of his humour.Just brilliant.
Review date: 10 Aug 2014
Reviewed by: Graeme Connelly
Reviewed at: Heroes @ The Hive
Recent Reviews
What do you think?