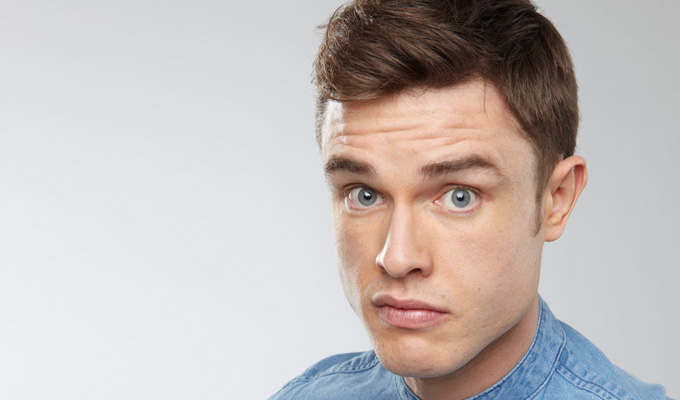 Ed Gamble: Gambletron 5000
Note: This review is from 2014
'Did that happen to you?' Ed Gamble asks a man who emits a laugh of recognition at the onset of a story of abject humiliation. No, it turns out he had heard the routine before on the Peacock and Gamble Podcast.
Gamble has bided his time before making his solo Fringe debut, after two years of line-up shows and three as the double-act with Ray, not to mention building a fan base from the podcast, on the circuit and supporting Greg Davies.
The result is a) a full Portakabin even on the sluggish sales day known as Suicide Wednesday; and b) a solid, confident hour of reliable anecdotes, some of which have been honed in the clubs, and loosely themed around a personal transformation from overweight, depressed, loner to svelte 'badass'.
The journey was only partially completed. Instead he settled at relatively well-balanced nice guy, stopping short of developing full-blown super-confident twattery. As his ill-fate lads' holiday to Tenerife testifies, that is not his world, and from this middle ground he can mock any ambitions he had to join it.
Gamble is the sort of comic to use real-life incidents for material, but despite his reawakening, he doesn't want to dwell on anything too profound. An intimate operation, for example, is played for laughs, not sympathy, so you can imagine how flippantly he discusses his Type 1 diabetes, or at least the ridiculous questions he gets asked about it.
He brings a jaunty, frivolous attitude to everything, whether it's his darkest moment on his get-fit campaign, which makes his embarrassment hilarious, or encountering a genuine badass in Detroit, where he filmed scenes for his new BBC America series Almost Royal – and gets almost giddily excited by just how tough this guy is, so far from his own mildly posh upbringing.
Gamble is affable company, and dependably amusing, producing a constantly assured show, even if his upbeat routines don't have the killer edge. What he does have is a rich vocabulary, creating vivid imagery and delightful turns of phrase. One routine, in particular, proves him a veritable Roget of the nether regions, while even the clapped-out gym equipment he's forced to use in hotels is amusingly described.
Though not an especially risky debut, Gambletron 5000 is a strong calling card for a funny and friendly, everyman comic, ripe for another step up in his career.
Review date: 9 Aug 2014
Reviewed by: Steve Bennett
Reviewed at: Pleasance Courtyard
Recent Reviews
What do you think?