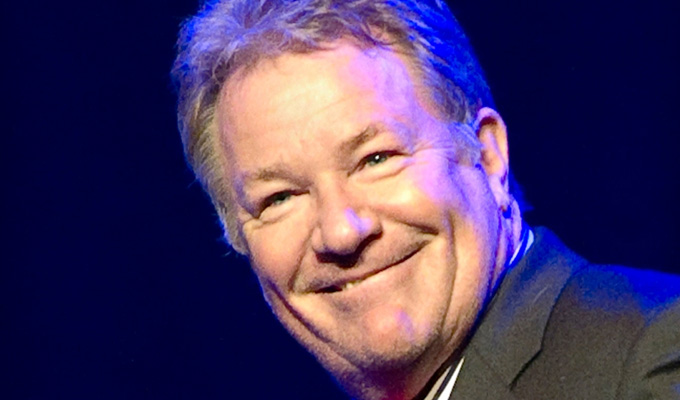 Jim Davidson: No Further Action
Jim Davidson arrives in Edinburgh with more baggage than a Samsonite store. The old-school dinosaur – racist, sexist and homophobic by reputation – has made an incursion behind enemy lines and into a vipers' nest of artsy liberal intelligentsia who so despise him. Is this a further step, albeit a bold one, in his bid for mainstream public acceptance, post-Big Brother?
That won't be easy to achieve. Though he would be loathe to admit it, his material has been all those -ist words at various points over his career. Nor is his public image exactly loveable. There's the domestic violence for starters. Yet we at least tolerate Spike Milligan for similar profession transgressions, and Richard Pryor for similar personal ones. But those forebears gave us The Goons and Live In Concert, and Davidson gave us Boobs In The Wood. Good art forgives bad behaviour.
If you're not a fan, it's impossible to put all this out of your mind, heading to Davidson's show; and he fuels it, to an extent, reminding the audience that the critics who police comedy would berate them for laughing at reactionary material, and stoking up the idea of 'politically correct nonsense' that serves to stifle him. His shtick would make him the Nigel Farage of comedy, railing against the imagined forces of oppression, which the genuinely oppressed would probably call progress.
But in fact – and here's perhaps the headline of the show – Davidson professes himself to be no fan of UKIP, and even hails immigration for providing a vital workforce, doing jobs white British folk won't.
So what if this wasn't Jim Davidson making his Fringe debut with his reputation proceeding him, but a jobbing 60-year-old London comedian called Ken Davis – a stage name Davidson once considered when he started, being a corruption of his real first name Cameron, or Cam?
You'd certainly say he was a consummate professional. The man knows how to tell a gag, and keeps them coming thick and fast in an opening section largely about his hard-drinking Scottish dad. It's not going to demolish an stereotypes, but the timing's impeccable and he's a dab hand at accents, from weegie rapscallions to Alex Ferguson. And yes, some from outside British shores, too.
You would praise Davis's storytelling skills, too, holding the audience rapt with longer, personal, joke-scarce routines by the strength of his delivery alone.
And you'd say he could be a bit crude, but with a rough diamond charm. Very occasionally he shows a generational gap, too, by doing things that aren't really acceptable nowadays. But nothing really jars unless you're purposefully looking out to be offended, save for a line when re-enacting a visit to a particularly vile public toilet. When he screws up his face in disgust, he puts on a comedy East Asian accent and says he looks 'like that Korean dictator'.
If we drop the Davis conceit, Davidson has been around enough to know this gag will get into the reviews, and complains that he can't escape being vilified for this sort of thing. But does it anyway in defiance, as if stubbornness might change the outcome. He seems not quite sure what path to take, go with the prevailing sensibilities, or stick to his guns and portray himself as a maverick against the liberal elite.
But mostly, his material is perfectly in keeping with plenty of other shows at the Fringe, with personal anecdotes mixed with sly digs and observational stuff about the likes of Lidl and Jeremy Kyle – not the most imaginative topics, perhaps, as plenty of comics cover this ground. But they don't generally get picked up for 'punching down' in the same way as Davidson does; perhaps they should.
He's also got some fantastic showbusiness anecdotes about Freddie Starr's mischievous pranks. Starr was, of course, like Davidson caught in the Operation Yewtree net, which now looks like it was rather indiscriminately thrown.
His atypically longwinded account of his arrest and interrogation (with far too much blether about the reporters hanging around his house ahead of the fact) is a fascinating and eye-opening insider's view of what he understandably considers a witch-hunt. Police, of course, should investigate any allegation, and my opinion at first was that hearing Davidson presenting his one-sided story would be akin to hearing a dangerous driver telling the cop who pulled him over to investigate 'real crimes', oblivious to the bigger picture.
But his questioning had a comically Kafkaesque tone (and no, I can't believe I've just used 'Kafkaesque' in connection with a Jim Davidson gig, either); and with the amount of time and money squandered before it was decided no further action was to be taken against him, you do wonder why the process couldn't have got to the truth quicker. Davidson says the affair cost him £120,000 in legal fees and £500,000 in work.
He has a saviour in the guise of his old mate Richard Desmond, the media baron who owns Channel 5, the Daily Star, OK!, some porn channels and the Daily Express, which entirely coincidentally just gave Davidson's book about his 'year from hell' a five-star review.
Before Yewtree, Desmond had already promised to revitalise Davidson's career with a chat show or revival of a game show like Big Break; starting with a stint in Celebrity Big Brother. 'We'll fill the house with crumpet and find a gay bloke for you to piss off,' the tycoon told him. Those plans were put on hiatus for a year after Davidson's arrest, but the comic's subsequent success on the show is certainly paving the way for a comeback.
After all, he was once the face of mainstream TV entertainment. The Fringe show reminds you why; for although the tone may be laddish (and very occasionally unacceptable), he works a room expertly. I even think he's probably not racist now, which shows just how persuasive he is, even if in the past his material might have given real racists some reinforcement.
Davidson's probably going to play largely to existing fans this run, but I came out at least partly converted. There are reservations and caveats – the closing routine is certainly more graphically filthy than it needs be –  but this is a much funnier and more engrossing hour than you'd probably expect.
Review date: 8 Aug 2014
Reviewed by: Steve Bennett
Reviewed at: Assembly Hall
Recent Reviews
What do you think?