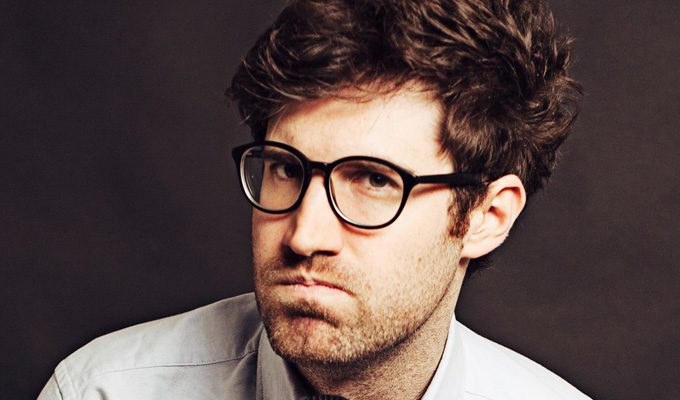 Dan Schreiber: Cockblocked From Outer Space
Note: This review is from 2014
If you know Dan Schreiber it'll be for producing Radio 4's Museum Of Everything, being a QI elf, or co-hosting the spin-off podcast No Such Thing As A Fish.
So it's little surprise that his debut hour is a similar celebration of curiosity, nerdiness and offbeat facts. The best thing in the show is the real-life story of Geoffrey Tandy, recruited as a Bletchley Park Enigma Machine codebreaker in the war, unforgettable once you've heard it. So yes, Cockblocked From Outer Space will appeal to QI fans.
Despite looking like an extra from Big Bang Theory, Schreiber was apparently slow to realise his own geekiness, and the fragmented stand-up that surrounds the entertaining facts is all about that awakening; his subsequences dalliances with the nerd subculture from conspiracy theorists to date nights for like-minded folk; and an encounter with the mad-as-a-baboon Brian Blessed.
The content can be patchy, but Schreiber sells it with an enthusiasm that's convincing, lifting weaker observations and stories to at least have the effective rhythms and strong emphasis of comedy. He's not a great joke-writer, with many attempts feeling a little old-hat, but he can turn a good phrase – like the title, which refers to a date ruined when the girl he was trying to woo received a text from the International Space Station.
We are never a couple of minutes from a slice of entertaining trivia, and that's what makes the show. For instance, his gag about the old 'you wouldn't steal a car…' ads against DVD piracy, taken from the small print, is unexceptional. But his fact about the campaign itself is a doozy.
Other true-life information concerns the the curious talents of Chinese zoo keepers, the important scientific work of a Dutch pubic lice hunter, or the perils of zombies. His obsessions with facts and unlikely-but-true stories certainly pays off, keeping the audience as fascinated as he is in the information, engaged in a way that he probably couldn't achieve if left to his own stories.
He's good at structure, too, with an hour that's as well-constructed as it is well-researched, right down to an epilogue that gives perfect closure to several of the yarns. For ultimately, the facts not only speak for themselves – but get the laughs, too.
Review date: 6 Aug 2014
Reviewed by: Steve Bennett
Reviewed at: Underbelly Bristo Square
Recent Reviews
What do you think?