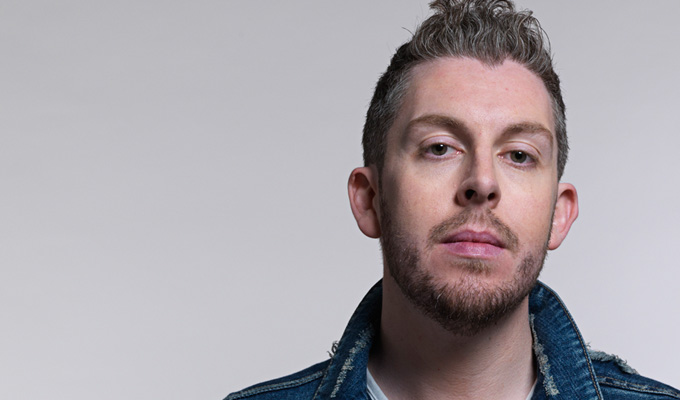 Carl Donnelly: Now That's What I Call Carl Donnelly Vol 6
Note: This review is from 2014
Carl Donnelly is looking a bit rock 'n' roll these days with his man bracelets, double denim and do we detect a bit of eyeliner? Plus there's no trademark glasses which is the crucially different bit.
There are two reasons for his change in image – and neither of them, he notes, are his previous resemblance to Rolf Harris. One is laser eye surgery and the second is the break-up of his marriage. Both of which feature strongly in this year's show.
He's had a bad 12 months, he tells us, and last year's show emerged amid his near breakdown and all its raw emotions. Obviously it did something as Foster's nominated him for the main Edinburgh award, showing once again that you have to suffer to be nominated, whether it be through lost wives or dead Dads.
But now he's in a good place, and you can tell. He's mellow, even more laid back than usual. A state that could be comedy suicide for some comics, leading to complacency, but not for Donnelly. It just makes the jokes come thicker and faster, while putting us at our ease. He makes it look so effortless, truly like your mate down the pub. But of course there's far, far more prep involved than it appears.
In his recuperation process are experiences that are the stuff of gap year adventures, travelling in India, being high on drugs and attending excessively weird house parties. But in Donnelly's hands they're lifted above that. Invested with so much evocative description and told with such skill that they feel fresh, like new.
He perfectly expresses how the experience of India gives with one hand and takes away with the other, how much it is an onslaught to the emotions - you see something extreme and bad one minute and beautiful and unexpectedly funny the next. Later there's the pure silliness of grown men searching for enlightenment by boiling South American magic tea in Donnelly's kitchen.
Despite the chilled demeanour it wouldn't be a Donnelly gig if he wasn't distracted by what's going on around him, this time by the big muscley bloke in the front row and his guns (not of the revolver type), which leads to a metrosexual moment.
Once again Donnelly proves himself to be a safe bet ticket for guaranteed entertainment at the Fringe.
Review date: 5 Aug 2014
Reviewed by: Marissa Burgess
Recent Reviews
What do you think?