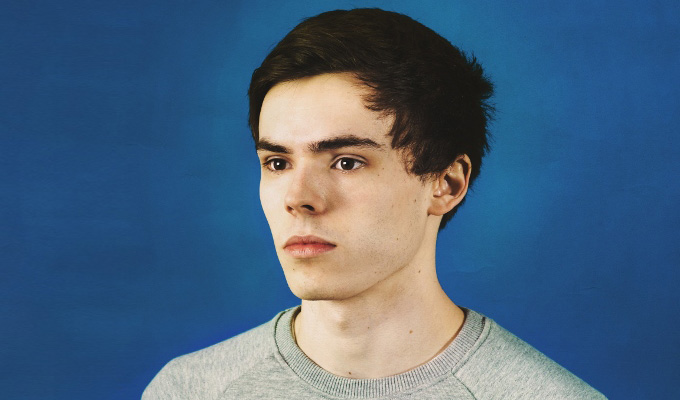 Rhys James: Begins
Note: This review is from 2014
Within his show James claims that he's had the term 'pretentious' levelled at him both personally and in review. He's certainly not. Just clever and unafraid to show it; highly skilled with words and a poet no less, an aspect to his talents he'd be daft not to use in his debut show.
But before he takes to the stage there's a industry-savvy opening film, parodying the kind of agent and PR rubbish you can get yourself involved in when heading to the Fringe for the first time. James has roped in Matthew 'Pappy's' Crosby to play his slick suited PR agent with some grand ideas for show name and ridiculous styling ideas.
In the end James opts for the stylish simplicity and apt name, Rhys James Begins - because he's just beginning his stand-up career and as having graduated from a politics degree, he's spending most of his days watching Batman films.
As much as he parodies the Edinburgh machine for a first time comedian he has done it by the book – nice sized room in the Pleasance Courtyard, agent, PR, the youth and the nice hair (even though those bits aren't intentional) but most importantly he's got the goods to back it up. This is an accomplished hour that surely will at least be considered for a newcomer nomination. It's tight, not dropping a beat, despite being incredibly fast paced. Solid gags come thick and fast. Technically, it's textbook. There's plenty of pull back and reveal, some of which are a little obvious but what does it matter when the next gag is only a few seconds away.
Some shows by comics in their early twenties can appear somewhat naïve, talking about issues and life experiences that the older ones amongst us worked out years ago. But at 23 he's perceptive about life, Begins doesn't come across as one of those shows written with a limited view point. His stories about spending eight years fancying the same girl only to finally go out on a date with her and realise that they have absolutely nothing in common has a simple universality about it.
On occasion James delves a tantalising touch into dark, mischievous gags featuring being breast fed by his Mum and comparing his dead kidney to a dead grandparent. It would be good to see him develop this side of his material.
Though his love of words isn't just shown in his many well structured gags but of course in his talent as a performance poet. Several poems punctuate the stand up and despite the theatrical change in lighting you'd be wrong to level the term pretentious at him as one real or fictional critic may have done. After all one of them is an ode to Claudia Winkleman
Politics' loss is comedy's gain. The lad will go far.
Review date: 5 Aug 2014
Reviewed by: Marissa Burgess
Reviewed at: Underbelly Cowgate
Recent Reviews
What do you think?