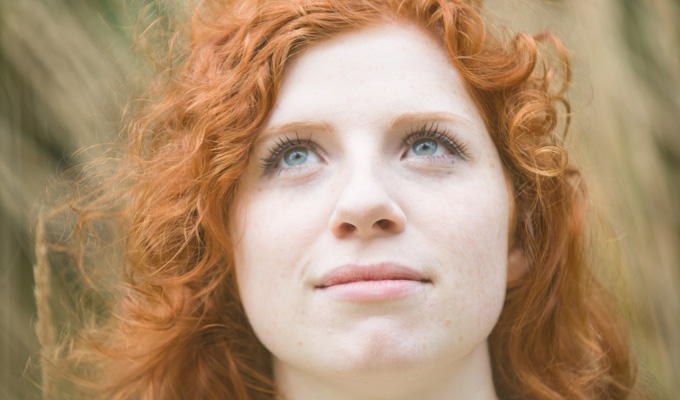 Eleanor Morton: Lollipop
Note: This review is from 2014
Eleanor Morton is straight from the school of gauche and geeky anti-comedy comedians, the poster girl for awkwardness. I'd love to have been reviewing the show I think she could do, rather than the one she did, as frustratingly she kept introducing subjects that piqued my interest without developing them. I genuinely wanted to know more about her, but felt excluded and not in on the joke for much of the show. Maybe next year?
Unslick, tremulous, gauche with a piping singing voice and the accessory du jour, a ukelele, she gave herself a deliberately bad announcement on to the stage, in the minute Stand 4, where the back row is no more than three metres from the performer.
A young-looking 22-year-old, she's been doing comedy for four years, amazingly, and is obviously working on niche appeal. Achingly vulnerable, she opened with a song (or at least words spoken rhythmically to a uke accompaniment) about slightly awkward social situations.
Rejecting the conventions of old-school stand-up, the audience was not set at ease, not reassured about her competence, she confessed she didn't want to do a show, it was her counsellor who advised it as means to overcome anxiety. She has anxiety, phobias and hypochondria and her strategies for coping (singing to drown out the inner monologue, invisible animal friends to confide in) provided the structure to the show.
Now what she could have done was a fascinating, revelatory funny show about neuroses and mental illness, but this was knowingly bonkers and whimsical (she used the word) deliberately annoying, like being holed up with a Year 12 drama student used to getting attention for being daft. Like fizzy drinks or coloured sweets, too much whimsy can make you bilious.
She used moments of audience interaction, mocking the habit of asking questions and giving ripostes by making each audience member choose a pre-written question and then a random pre-written response; sometimes the ensuing non-sequiturs were surprisingly apposite.
It's all very well deriding the old school, but it would come from a position of strength if you felt she possessed some of the skills she's rejecting. Morton was intermittently compelling, the invisible friend sitting on her head became oddly believable and the last few minutes of the show injected some genuine comic tension dynamism.
A bit Marmite, this is probably great for the people who despise the 'only jokes' school of comedy. Jokes are difficult, this is the comedy equivalent of a finger painting on the fridge, but everyone's got to start somewhere and she's got the material for future use.
Review date: 4 Aug 2014
Reviewed by: Julia Chamberlain
Reviewed at: Stand 3 and 4
Recent Reviews
What do you think?