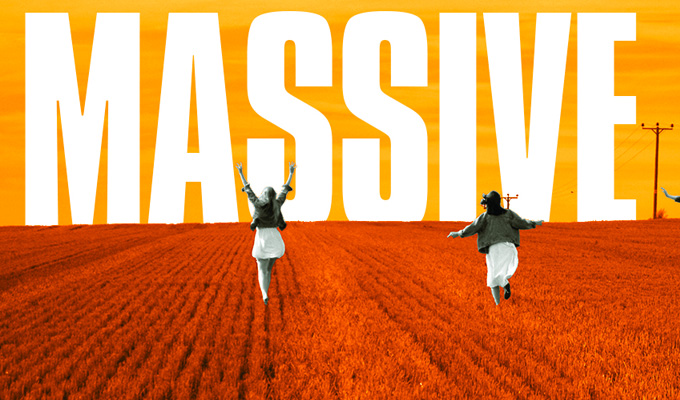 Massive Dad
Note: This review is from 2014
Odd name; odd gals. They both make no excuses that Massive Dad is a fatuous thing to be called, while simultaneously purloining the Hunger Games universe for a epically tall tale about where that meaningless moniker came from.
That sums up their approach, really. They are big on ambition, even if the purpose or motive of the sketches is flimsy, even by comedy standards. These too-shallow foundations stop them from being as rewarding as their talent clearly promises – but they are nevertheless quirky festival debutantes worth watching out for. For Stevie Martin, Tessa Coates and Liz Smith have plenty of moments of arch, eccentric wit, with nicely unexpected twists in their adroitly-performed scenes.
We'll see how long they persist with the artifice of hailing from an unspecified central European regime, currently on a mammoth international tour exporting their newly-minted idea of 'sketch comedy' to the planet. And if the concept is too complex, they explain what comedy like 'in our country' in heavy accents, a typical example of their occasionally meta approach.
Some of their skits have the potential to be classics. Their peculiar take on garbled business-speak was a delight and the children's radio story programme, made up on the fly as the star actresses fail to show up, demonstrates a strong verbal slapstick. A Loose Women-style discussion about sex can be seen as a wry comment on the way TV has to polarise debate on the likes of religion or climate change, and though it lacks a killer punch, consistently delivers smaller chuckles.
As Dickensian market stall-holders or a 'hey-nonny-nonny' folk trio, they display their singing talents; both scenes relying on one central joke sustaining them; the first does, just about, the second is more debatable. Similarly, a sketch about yummy mummies trying to split a bill clearly comes from astute first-hand observation, but falls shy of hitting the highs.
But the best of their offerings is surely their finale, as they become an earnest, pseudo-American Theatre In Education group spreading mixed messages about smoking, cyber-bullying and more. Perhaps this is them imagining a nightmarish alternative future for themselves; but it doesn't look like it'll come to that with this promising, if slightly unsteady, debut.
Review date: 4 Aug 2014
Reviewed by: Steve Bennett
Reviewed at: Pleasance Courtyard
Recent Reviews
What do you think?