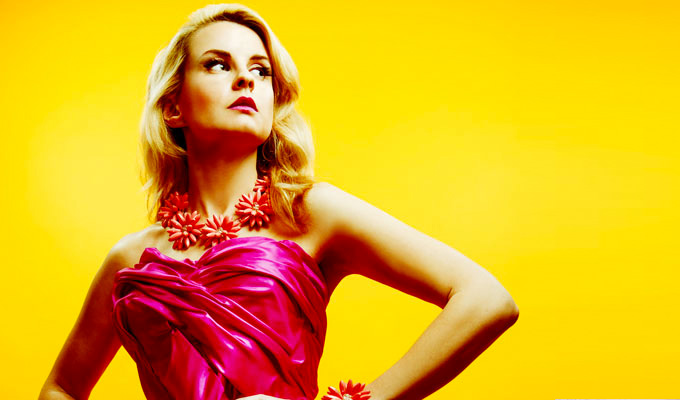 Anna Morris: Would Like to Thank
Note: This review is from 2014
Setting her second Fringe hour at the final of the Women of the Year Awards 2014, Anna Morris has hit upon a rather elegant showcase for her characters. The competitiveness of the event foregrounds their dysfunction, while affording the audience a sense of engagement and opportunity to see more of their favourite after the deciding vote. In practical terms too, the promotional trailers give Morris the time to change costumes.
The event is hosted by Morris's most established creation and last year's supposed winner of the award, the sloaney Georgina Francis, creator of Georgina's Wedding blog and founder of Bride Aid, dedicated to ensuring that 'every woman in the UK gets the wedding of her dreams'.
Competing are Nina Gordon, Scouse self-made 'mumtrepreneur' whose ruthless business ideology spawned Baby Fit, an exercise regime that involves pumping your small children like weights; Jane Dough, a nervy single mother and domestic goddess whose cakes are devoured by her picturesque little town; Keva O'Leary, an uncompromising, Irish foreign correspondent who's seduced or murdered every despot on the planet; and Alexi Steele, radical activist for single women who disrupts weddings and denounces everyone in a relationship as 'weak!'
In her absolute, bulldozing self-confidence, Gordon recalls Kerry Godliman's Becky Hogg in the short-lived BBC Two sitcom Home Time, sporting a headset as a power play and extending the advice of Facebook CEO Sheryl Sandberg to ridiculous physical exertion. Literally juggling family and career, she's a grotesque but compelling caricature of the have-it-all businesswoman.
Dough by contrast, is a meek mouse of a woman, sublimating feelings of rejection by her husband into her unhinged compulsion to bake. Not too far from her prim and proper English surface lies a terrible secret, but she earns plenty of sympathy by passing round chocolate brownies.
As the most self-aware and intelligent of the four, O'Leary is, probably not uncoincidentally, also the character with the greatest potential for life beyond this show. Devious, committed to landing her scoop at any cost and accomplished at using her feminine wiles to wrap dictators round her finger, her problem is one of simple biology. A sort of Orla Guerin/Kate Adie hybrid with femme fatale tendencies.
If O'Leary gets the best lines, then Steele is the most full-on performance. Standing on a chair, denouncing the patriarchal institution of marriage through her Pussy Riot-syle balaclava, she demands solidarity from the single 'bitchelors!' in the crowd and threatens to gatecrash the real nuptials of an unfortunate couple in the second row.
Indeed, even before the free cakes, Morris works the audience with sprightly charm and a consistency to her creations that extends to even asking the same person about themselves in a different guise. Unlike in many similar showcases, each character is allotted equal time, care and priority, each given a theme tune for example, which, adapted from a pop hit or film score, proves consistently memorable. All of which ensures that the ultimate result doesn't seem as inconsequential as you might expect, a close-run contest that's probably different every day.
If there's a weak link, it's Georgina, who has a rather perfunctory strop about her husband not supporting her. And it must be said that none of the skeletons in the closets ever truly take you by surprise, to the show's considerable diminishment. None of the characters have quite enough depth for that, even if the executions are uniformly larger-than-life.
Still, this is an entertaining advert for Morris' talent as an actor and rather inclines me to catch her in ITV2's forthcoming reality show gatecrash, Bad Bridesmaid.
Review date: 3 Aug 2014
Reviewed by: Jay Richardson
Reviewed at: Underbelly Bristo Square
Recent Reviews
What do you think?