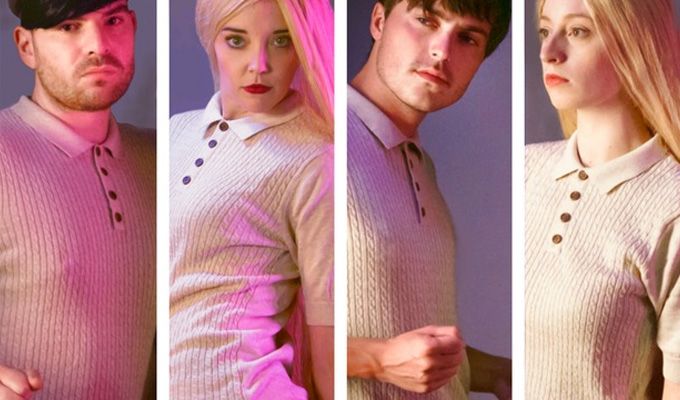 Zazu
Note: This review is from 2014
Nobody mention This Is Jinsy, but zazU is a surreal, isolated fictional world at an angle to to real life, with strange rituals, greetings – 'G'mu' –  and social structure, though which we are guided via a 1950s Watch with Mother-style voiceover. A lot is placed on the oddness of this place, and the awkward interactions between its cold, peculiar inhabitants.
But in this alternate universe, which is never quite convincing, the actorly quartet often deploy weird as a substitute for something more elusive, like punchlines. Disconcertingly unusual phrasing – in both language and movement – is their stock-in-trade, but it's not really enough.
The show works best when the surrealism addresses, however obliquely, some sort of truth, such as the bureaucratic wrangling a new father must go through to take both his Twins home from hospital – one of a few deliciously dark sketches that up the hit rate. The concept of unwanted 'spare' children is a bleakly wry one, too - though perhaps more brutally satirical than funny.
Some characters are more traditional; such as sullen shop assistants or the highly-strung feminist who takes umbrage at every supposedly phallocentric affront. Quite how she fits into the zazU society, where it is men who have only recently attainted parity with women, is a mystery – a sloppy set-up for a team who, in performance at least, are usually very precise.
The male half of the quartet – Tom Machell and Nick Read – both have a nice line in shouty aggressive types, which reaches an apex with DCI Bastard, a cop-show spoof that's a highlight of the hour, though atypical of the usual zazU sentiments. Maddie Rice is the most obviously comic of the four, with malleable features ripe for gurning, while Harrie Hayes is more of a 'supporting character' workhorse.
For all their performance talents, too many scenes end with a sort of 'ho-hum, that was a bit odd' rather than a laugh as they romp through non-sequiturs such as incongruous dance interludes.
Their desire to follow in the footsteps of Jinsy, Psychoville and Boosh seems too derivative. They have their moments, certainly, but they tend to be despite the heavy format, not because of it. They don't yet have the voice they are trying so hard to find – since it's comes from a deeper place than stylistic flourishes – but I wouldn't write them off yet.
Review date: 2 Aug 2014
Reviewed by: Steve Bennett
Reviewed at: Underbelly Cowgate
Recent Reviews
What do you think?