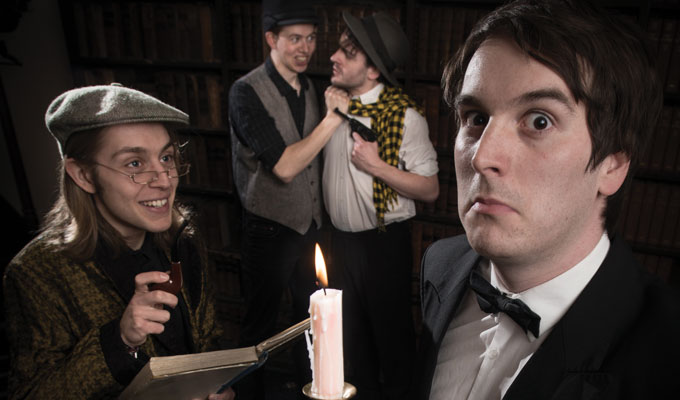 Aaaand Now For Something Completely Improvised
Note: This review is from 2014
As an improv group, Racing Minds are all about the mistakes.
For the five-man team – all alumni of The Oxford Imps – have a fiercely pedantic dynamic, always picking each other up on slips of the tongue and plot inconsistencies as they ad-lib a long-form playlet from the audience's initial suggestions. With just a title, setting and lead character's name and secret – not to mention hatstands heavy with charity-shop costumes – they create an almost-coherent 50-minute narrative.
This afternoon, and possibly every afternoon, they pair up for two story strands, each covering half of the premises they've been given, only to forcefully jam them together towards the end to make it seem as if it was one story all along. It's very silly, and they make much of the fact. The Velvet Crevasse, today's offering, presents us with Andy Warhol and his ethereal muse, a private detective seeking to find love for his client and a child concert promoter who works from a tree.
Chris Turner, also known on the stand-up circuit, seems set on corrupting proceedings with his odd physicality while often lobbing in lines that are too clever for their own good. Tom Skelton is largely charged with advancing the story, even if that often means preposterous leaps of logic. Dougie Watson is the closest thing to a straight man a bearded cross-dresser can be; and Daniel Roberts ramps up the surrealism in his Warhol role. And special kudos to Dylan Townley, behind the keyboard, generating an atmospheric and occasionally witty soundtrack to the tale on the fly.
The quintet are all clearly well-read, throwing out smart-but-subtle references to everything from Sherlock Holmes tales to legal principles, albeit to mixed effect. Some gags land elegantly, other times it's the teasing over a failed line that gets the laughs – part of the playfully competitive spirit that stays the right side of smug. Yet for all the nitpicking they indulge in, the ephemeral story turns out to be more slickly told than it has the right it be.
There's a lot of improv at the Fringe. Let's face it, there's a lot of everything. But this talented mob seem a safe bet.
Review date: 1 Aug 2014
Reviewed by: Steve Bennett
Reviewed at: Pleasance Courtyard
Recent Reviews
What do you think?