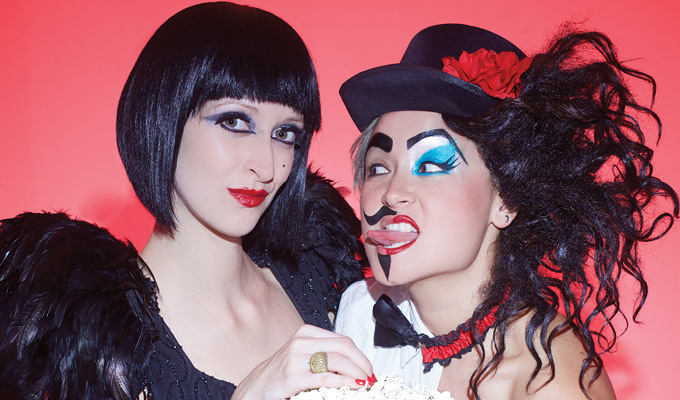 EastEnd Cabaret: Sexual Tension
Note: This review is from 2014
They may be called EastEnd Cabaret, but nowadays they show little trace of the London district where the act was conceived, with sensibilities that are more Pigalle than Plaistow. A prowling, predatory sexuality defines every sleazy thing insatiable frontwoman Bernadette does as she stalks the audience with the swaggering confidence of an accomplished dominatrix, picking off helpless victims to feed her voracious carnal appetite – all the while breathlessly pounding out the raunchy vaudevillian numbers.
Her partner-in-crime, Victor/Victoria, is a randy Baldrick figure, besotted but under-appreciated, largely reducing to accompanying the powerhouse songs on keyboard, or occasional accordion to add to the strong 'twisted cabaret' aesthetic. That her look is vertically divided into half-man, half-woman is almost incidental.
There may be two of them, but their minds have only one track. The world's best songs are all about sex, of course, but the lack of variety in EastEnd Cabaret's lyrics leads to diminishing returns, after we've heard about sex with a bendy man, sex with vegetables, sex with Eighties celebrities. In their world, it's is not just a flan, it's a 'sex flan'. There's a track set in the future, and guess what it's about? Tiny Sex Robots.
Subtlety is not their strong suit, and they are pretty direct about the outlandish depravities they imagine, even if there's a repressed British sniggering to their tone, making the show can be as silly as it is sleazy. However more texture would be welcome.
Around the two-thirds mark they do add an extra layer to the filth, with Victor/Victoria unmasked as a vengeful 'third wheel', driven to murderous extremes by the unrequited love for her promiscuous partner. But they add little new to the common comedy trope of Psychopath Lite, cataloguing various over-the-top horrors.
Where they do shine, though, is sheer chutzpah. They absolutely own their stage, their room and, their audience, which is exploited in some bold set pieces. It begins even before Bernadette gets to the stage, born by two 'volunteers' who become putty in her elegant hands. Such swagger ensures the rousing finale, too, hits home with force.
Review date: 31 Jul 2014
Reviewed by: Steve Bennett
Reviewed at: Underbelly Bristo Square
Recent Reviews
What do you think?