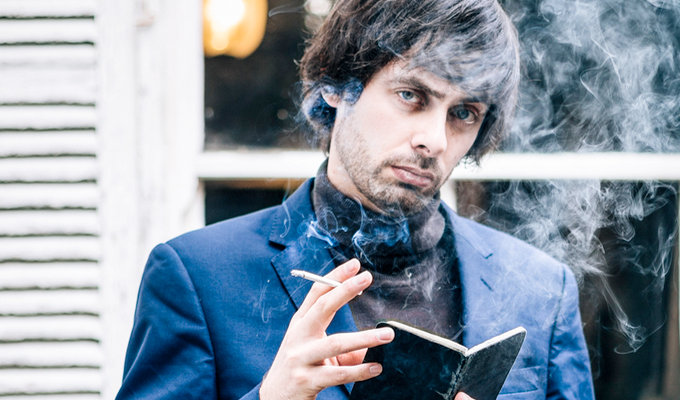 Marcel Lucont at Latitude 2014
Note: This review is from 2014
Marcel Lucont puts l'attitude into Latitude.
That's his lovely second line here, after an opener designed to make the Francophones feel superior for getting it.
Not that anyone could ever seem superior compared to him, of course, his unassailable Gallic arrogance being the whole point of the set, an archetypal attitude so ingrained that no backstory is needed, we already know this haughty homme.
Alexis Dubus, the man beneath the black rollneck, writes plenty of artful, epigrammic one-liners for his self-centred alter-ago, intolerant of anything that fails to fall outside his narrow focus of how the world should be. And that includes children.
So what he makes of some of the less salubrious aspects of British culture is priceless, as his combination of derision, horror and eloquence about, say, the fashion choices of certain tribes of Northern girl is exquisite.
Lucont also delivered a coupe of longer set pieces. The first, his own list of 50 Ways To Leave Your Lover is something of a hit-and-miss affair, and certainly takes its time to bed in before the more surreal suggestions lower down the list.
A much more effective piece for this environment, was his finale, in which he narrated his own version of war poetry – but with the inhuman conditions of festival camping substituted for the trenches of the Somme. The found footage with which he illustrated this on screen was as hilarious as it was horrendous, a fitting end to a strong but short (15 minutes) set.
Review date: 21 Jul 2014
Reviewed by: Steve Bennett
Reviewed at: Latitude
What do you think?