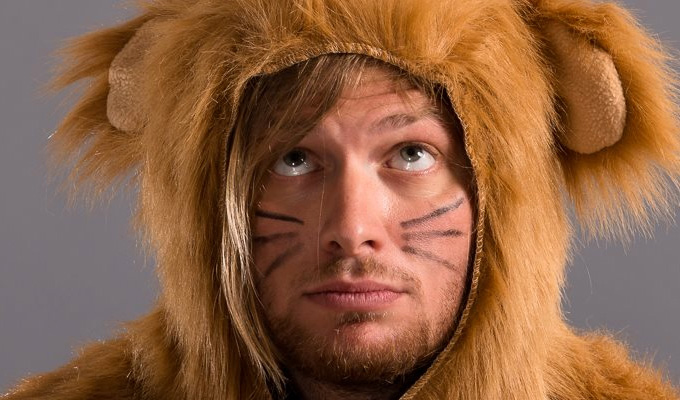 Sex With Animals
Note: This review is from 2014
It's a messy business, sex… and so too is this show by New York's Ryan Good, coming to London for a month-long residency after a run at Edinburgh last year. It mixes many components, ideas and styles – a few too many for clarity – but ultimately charms through Good's nice-guy charisma.
Dressed in a super-snug lycra lion costume, this affable New Yorker highlights some of the more unusual mating rituals from the animal kingdom with a wit and curiosity akin to QI. If you want to witness a red-capped manakin bird moonwalking to woo a mate, learn about lesbian lizards or know what a giant turtle's cum face looks like, this is the show for you.
But Sex with Animals is not just cross-species voyeurism; as Good uses the diversity of natural history to draw parallels with his own unconventional sex life and deliver a message about how social norms should be more malleable. For it transpires that he is 'polyamorous', or open to being in love with more than one person at a time. It's a more emotionally complicated state than swinging,and although he's not averse to attending orgies, his aim of raising a child within a three-person relationship is sincere and well-intentioned, if ultimately ill-fated.
Because of that openness, the more Good lets his own personality shine through from beneath that man-made mane, the better the monologue becomes. But his background in theatre, rather than stand-up, means that isn't always the case.
He begins, for example, with a story of giant Galapagos turtles, which he gabbles his way through too quickly, and sounding too detached. Like a later true story of same-sex penguins bringing up a child, he makes it sound like a fiction. In moments like this feels like Good is trying to cram too many angles in, without doing a lot of them justice. For example, he could probably lose his stoner-like musings on the philosophies of the theory of parallel universes to concentrate on the job in hand, and not every personal anecdote is enlightening.
That said, one diversion – using Tinder and Grindr in real time – is a particularly inspired move, which adds an ad-libbed element and could, if events so transpire, really create something special. In a stand-up landscape where those hook-up apps are usually used for a cheap joke, it's good to see them being deployed more creatively.
In fact, that's the essence of why Good's show works so well when it does, as his stories about sex both avoid cheap gags and pan out in a different direction from what you might expect, as he (usually) puts heart ahead of smut.
Review date: 30 May 2014
Reviewed by: Steve Bennett
Reviewed at: Hope & Anchor
What do you think?