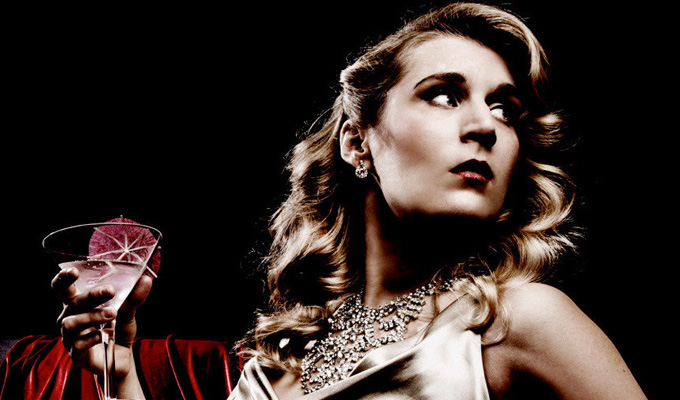 An Evening With Patti DuPont
Note: This review is from 2014
This show's premise is that octogenarian actress Patti DuPont, a grande dame of Tinseltown, is here to regale her adoring fans with showbusiness anecdotes from a career that's spanned 149 films and nine husbands. Or rather she isn't. Since the star is indisposed following a plastic surgery mishap, the job falls to her reluctant daughter Linda...
Thus we pootle, second-hand, through a fictional CV that ranges from child music hall actress to star of some of the biggest post-millennial blockbusters. It's a mildly amusing biography, but there's no real punch, and crucially no substantial story to engage the viewer, just a succession of peculiar titles or wry juxtapositions, illustrated with adeptly PhotoShopped posters and an astute parody of a 1930s comic song.
An extra dimension comes as the pushy Patti, who is watching the show via webcam from her sickbed, starts phoning into the show to instruct her daughter as to precisely where she's going wrong. Although this hints at the classic relationship of a browbeaten, overshadowed child bowing to the whim of a domineering mother, the angle is underplayed almost to the point of afterthought, the rebellious climax seemingly tagged on from necessity, rather than the conclusion of an emotional journey.
Still, it's played with – largely – subtle restraint by Anna Emerson, part of sketch group The Boom Jennies. At least until she cracks from maternal pressures, she's a credibly normal, nervous public speaker. But that also points to a drawback: the show is largely presented as an illustrated lecture about an unseen and unheard person's life from a relatively everyday character, and as such can't help but feeling a little flat. How we crave to experience first-hand the monstrous matriarchal presence of the absent Patti.
Review date: 19 May 2014
Reviewed by: Steve Bennett
Recent Reviews
What do you think?