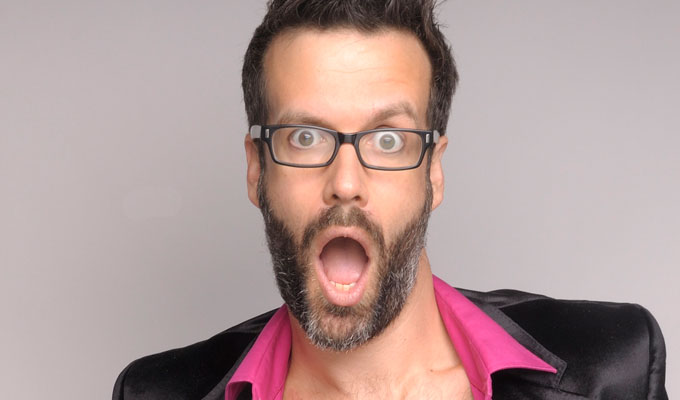 Marcus Brigstocke: Je M'Accuse
Note: This review is from 2014
In his latest show, Marcus Brigstocke aims to go from ranter to banter; curbing those impassioned liberal diatribes that get him so many Radio 4 bookings to tell us more about his real life.
And what a chequered life that has been: He's been a podium dancer, oil rig worker, overeater and Goth before he turned to polemical comedian. However, he doesn't indulge in too much soul-baring in Je M'Accuse, instead using his unusual experiences for the basis of jaunty anecdotes that only occasionally acquire a bit more weight. That seems to be something of a missed opportunity, as a solo hour should offer more scope for stories that are richer or more profound than a 20-minute club set.
Indeed, a proportion of his material is the stock in trade of plenty a circuit act. Rare is the fortysomething male comic who doesn't have a story about an intimate medical examination, and here Brigstocke details a testicular ultrasound performed by an acquaintance.
More hack is the trope of the posh bloke speaking in the language of 'da yout', even if Brigstocke has the patois down to a T. It opens the door for a wider demonstration of his vocal skills, and he plays with the audience's discomfort at wondering whether mimicking a foreign tone is racist. Brigstocke's politically correct credentials are impeccable, of course, but one can't help but wonder if the joke JUST lies in the silly accent, if it isn't a little lazy in the writing.
National traits come in to play again when he affectionately highlights the Welsh translation for microwave and jellyfish, though the words popty ping and pysgod wibbly wobbly have surely been widely debunked by now. Discovering a sizeable chunk of his audience comprises 17 Swedes in London for an Adobe conference also offers the chance for a flurry of light quips about both their homeland, as well as their employer.
Tales of peculiar heckles and a family safari where consequences of the local diet were a greater risk than any big beast, pave the way for the personal stories promised in the blurb, which hold the most interesting.
His telling of binge-eating is poignant and funny, and shows a chink in Brigstocke's polished veneer through which a little humanity can shine. Yet we don't get the full impact of the addiction or his overcoming of it, though his weight loss from 24 stone to 11 in a matter of weeks is impressive. This last ten to 15 minutes is skilful, personal stand-up building to a suitably climactic show-stopper – but how much more engrossing would it have been if the whole show had been this personal journey? It would be the difference between entertaining guff and a must-see show.
Review date: 14 May 2014
Reviewed by: Steve Bennett
Reviewed at: Soho Theatre
Recent Reviews
What do you think?