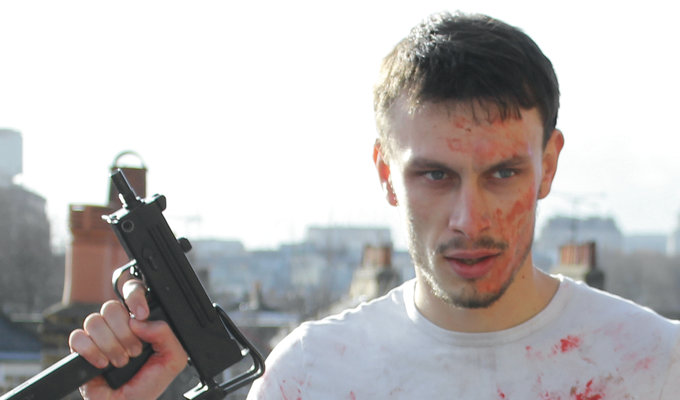 Richard Gadd: Cheese And Crack Whores
Note: This review is from 2014
Richard Gadd twists the 'tears-of-clown' idea into odd and occasionally disturbing angles with this ambitious show, which takes artistic self-flagellation to new levels.
As the audience file in, the angst-ridden comic in grubby T-shirt paces uncomfortably around the stage, trying to conquer his emotional demons as Harry Nilsson's plaintive ballad warns of the tragic loneliness of living Without You.
For it transpires that – in common with the opening gambit of so many stand-up routines – Gadd's girlfriend has just left him. Still, he must slap on the showbiz glitter and entertain the public, opening the show proper with an enthusiastic 'Woo-hoo!' and all the schmaltz he can muster.
The desperation is hilarious as it is palpable as Gadd violently over-sells awful and cheesy punchlines and tries in vain to connect with his audience through slick banter. And even as the abject misery behind the fake smile is unveiled, the 'real' Gadd behind the show keeps one eye on the funny.
In a series of sketches we learn first of how his amour Cathy dumped him over their anniversary dinner in McDonald's because of his insensitivity, his grubbiness and his obsessions with his comedy 'career', and a certain Australian tennis ace – and then of his repeated stalker-like attempts to win her back.
He cuts an increasingly manic figure as the lengths and lies to which he descends become ever- audacious – and ill-advised. Meanwhile the laughs from these scenes are amplified many times by the aid of the other player in this tragicomic immorality tale… No, not Cathy, who remains a voice in the ether, but an apparently mild-mannered sidekick/lackey on to whose broad shoulders Gadd displaces much of his own wretchedness. His empathy and naivety bring a welcome counterpoint to Gadd's gloom before revealing his own unsettling side too.
The hour is something of a bumpy emotional ride, and occasionally bumpy with the laughs too – the filmed sections, showing both his therapy sessions and his final terrible showdown with Cathy and her new love don't have the raw distress of Gadd's most heart-wrenching monologues – while the spiralling sex-and-violence depravity can mean cheap bad taste triumphs over the more complex, and comically appealing, psychology of a man on the edge of a nervous breakdown.
But the pros clearly overwhelm these issues. As he invites you to laugh at his pain, Gadd's bold approach, committed performance, and impressive talents for physical comedy make Cheese And Crack Whores as funny as it is interesting and identify him as a young comic bristling with dark, edgy creativity.
Review date: 3 May 2014
Reviewed by: Steve Bennett
Reviewed at: Soho Theatre
Recent Reviews
What do you think?